Ready to upgrade your 2018+ Jeep Wrangler JL/JLU Stereo?
Here at are our shop in Brookfield, CT, we upgrade Jeep Wranglers stereos all the time – older TJ's, JK's and even the new JL body style. Jeep Wranglers are a blast to drive in the warmer months – top down, sun shining, doors off and wind blowing between your toes (don't tell me you haven't driven your Wrangler barefoot like this). Add a kick ass stereo to the mix and it adds a whole 'nother layer of enjoyment to the cruising experience.
I used to say, whenever possible, I prefer to plan out a Jeep Wrangler JL stereo upgrade BEFORE my client has even purchased the vehicle. That's because when the Jeep Wrangler JL/JLU first came out, it was actually easier and cleaner to upgrade the sound in the premium amplified models, vs the non amplified models.
As technology has progressed in our industry, a new category has emerged which I refer to as "Pre-Amp Adapters". For many newer vehicles on the market, there are these really cool pre-amp adapters available that allow us to simply pop out the stock premium amp and drop in an aftermarket amp (and aftermarket speakers) in its place. This enables us to fully upgrade the audio system without losing any functionality or control and while retaining the OEM head unit and user interface.
Jeep Wrangler JL Stereo Upgrade – which model radio is your JL equipped with?
Jeep offers several different radios and packages for the new Jeep Wrangler JL body style including:
5″ touch screen
7″ touch screen
8.4″ touch screen
All of these models are offered with or without the factory premium sound option. Yet, what engineers have found, is the stock head unit electronics are the same between amplified and non amplified. So technically a pre-amp adapter can be used even in the non amplified models thanks to the clever techs at PAC Audio and iDatalink (article updated 8/6/2018). When used in a non amplified JL/JLU, they are essentially tricking the head unit into thinking it's connected to the premium stock sound system.
Jeep Wrangler JL Stereo Upgrade – Using a pre-amp adapter
There are several pre-amp adapters available on the market at the moment, however, I'm a big fan of the PAC Audio AMP Pro 4 series which is also available for many GM, Toyota/Lexus and Ford models.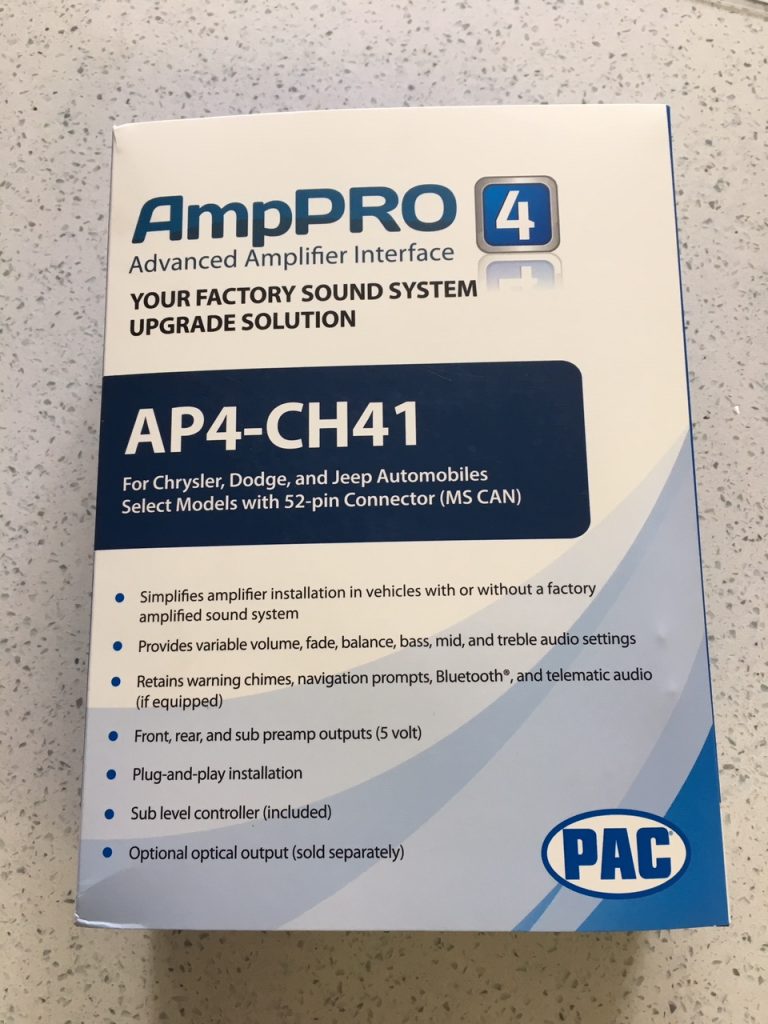 What is a pre-amp adapter exactly? Unlike a base model stereo, the audio signal coming from many premium stock head units is digital. It's just one's and zero's, data streaming until it reaches the stock amp. Think of that digital signal as a pre-amp audio signal. Once the signal reaches the stock amp it is converted to analog which is then output to your speakers. The stock amp also has built in crossovers and 9 individual channels for each driver unlike a traditional aftermarket amp.
Ideally, to upgrade the speakers and amp in your Jeep Wrangler JL, you want to intercept that audio signal before it hits the stock amp. That is exactly what these pre-amp adapters do. They catch the signal before it has been processed, while it is still clean, unadulterated and digital and then provides you with a way to connect an aftermarket amp and/or DSP processor to your stock stereo. You can either catch it while it is still digital and then keep it digital by utilizing an amp or DSP processor with Toslink connectivity OR you can convert it straight to analog RCA. This photo from PAC Audio illustrates it pretty well. In our Jeep JLU we used a pre-amp adapter plus JL Audio's TWK-88 for a DSP (update 8/6/19 – we have since upgraded to JL Audio's VX1000/5i amp which is a combination amp and Twk-88) so that we have full equalization control and time alignment.
There are a few different pre-amp adapters on the market compatible with the Wrangler JL and JLU:
In our own 2019 Jeep Wrangler JL MOAB edition (Mojito!), we used the PAC Audio AP4-CH41 and out of the 3 options listed, this is our preferred adapter. It's a bit more flexible than the other two options. One cool thing about the PAC Audio piece is you don't have to go the full DSP route. A lot of Jeepsters are do-it-your-selfers and may have skills for a head unit, speakers and amp install, but lack the knowledge and expertise to set up a 31 band EQ or the digital time alignment included with most DSP processors. You can use the AP4-CH41 just to get a nice clean 5 volt pre-amp signal so you can easily install a nice 5 channel amp, upgrade your speakers and add a sub. A DSP is optional with the PAC Audio adapter; it's not required nor is it included.
Keep in mind, if you have the non amplified Jeep JL/JLU, and you want to use the PAC Audio module, you MUST purchase the R2 version. The regular AP4-CH41 will not work for non amplified models, only AP4-CH41R2.
Just pause for a second or two and look at that picture above and look at how easy that makes your install. Gold plated 5 volt RCA pre-amp output, color coded speaker wire pigtail so you can run lines directly to your aftermarket amp (for non premium models; premium models can catch speaker wires in driver side upper kick at stock amp), remote turn on lead and OEM style cloth tape wrapped locking T harness. Fan-f***ing-tastic, I cannot tell you all how excited I am about this part. This makes upgrading anyone's Wrangler JL/JLU stereo super easy. Not only does it provide a clean, pre-amp signal, it also retains all warning chimes, bluetooth calls, etc.
Please note: if your non amplified Jeep Wrangler JL/JLU is equipped with active noise cancellation, you will need to buy an additional adapter to retain that feature (ANC-CH01) or just disconnect the noise cancellation mic's which is what we've been doing for years with Honda's and Acura's (they started doing that back in 2008).
Jeep Wrangler JL Stereo Upgrade – Why can't you just use a basic line output converter?
Is the pre-amp adapter necessary? Can't I just use a line output converter? For the premium sound models, no, you really need the pre-amp adapter to do it right. You can't easily slap on a line output converter for a full system upgrade because you'd have to grab your audio signal AFTER the stock amp where it has already been converted and divided up into various frequency ranges for your stock sub, mid ranges and tweeters. This video from iDatalink actually explains really well why you don't want to do it that way.
If you just wanted to add a sub to the stock system and you have the premium stock sound system, you can go the line output converter route and just grab your signal from the stock sub, but for a full system upgrade, you really want to go the pre-amp route.
For non amplified models, it's even tricker to just tack on an aftermarket amp and speakers with a basic line output converter because the stock head unit wants to see a specific resistance value on the factory speaker lines. It's much cleaner, easier and more cost effective to get yourself a pre-amp adapter.
Jeep Wrangler JL Stereo Upgrade – Speakers, amp, subwoofer and optional DSP processor
If you are familiar with my recommendations on the JK Jeep Wrangler Stereo Upgrade, then you're already ahead of the game. Really the same rules still apply. In order to upgrade and really be able to enjoy the sound system in your Wrangler – top up or down – you need:
Good, clean audio signal (either aftermarket head unit with high voltage RCA pre-amp OR pre-amp adapter with or without DSP processor)
Quality speakers that can handle high power for the front and rear
Subwoofer – preferably side mounted or down-firing so bass isn't lost when top down
High powered 5 channel amp to power new speakers and subwoofer OR use two separate amps – a high powered 4 channel and mono subwoofer amp
Jeep Wrangler JL Speakers – Sizes and location
Speaker placement in the Wrangler JL is the same as the previous JK models. You should have mid ranges against the dash pad, tweeters on the dash and component or coaxial in the sound bar.
However, looks can be deceiving. Although the grille sizes appear pretty similar to the JK body style, the speaker size has changed in the new Jeep Wrangler JL. Oddly enough, they have gone down in size.
The Jeep Wrangler JL is equipped with:
4″ components in front with an oversized tweeter (3.5″)
4″ components in the rear sound bar
Oh, and they are mounted in these cute little ported enclosures:
Only trouble with this size is you are kind of limited in options. There are not a lot of high power handling 4″ components on the market. Audison offers the Prima 4 series mid bass speakers and you can pair that with their AP1 tweeters and add a crossover for the fronts. Additionally German manufacturer Match offers a 4″ component set specific to BMW in the $250 range, but I have not had the pleasure of testing these speakers yet. Focal offers their ES 100K 4″ components from their K2 series around $750 a set.
I have both this Focal series and Morel Hybrid series on our sound board in our display room. The Focal's are great, don't get me wrong, but that Morel tweeter is just sublime. Upon listening, most of our customers prefer the Morel Hybrid series over the Focal K2 series at this particular price point.
Generally speaking, for best performance, I prefer Morel. For reference, I did put a set of the BMW Audison Prima speakers in my 2013 1 series and they're not bad, but I will be swapping them out for Morel in the near future – they're a little bright/harsh in comparison to Morel.
Morel has a couple options to choose from and they are both pretty freaking awesome. You really can't go wrong with either model. The Morel Hybrid 402 Components and the Virtus 402 Components fit quite nicely. The first Wrangler JLU we worked on, we did actually install a set of 6.5″ components in the front and modified the housings. We had pulled these speakers out from his last Jeep not knowing what size would be in the JL. It was quite a tedious effort, but if there is a specific set of component speakers you want and they are not available in 4″, you really don't have any other choice than to modify the housing.
Update 11-25-19 – Metra has announced new 6.5″ pods – the JP-1014 which will allow a 6.5″ component to be mounted in the front speaker location.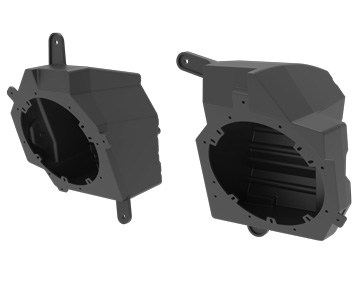 Additionally, SSV Works has announced a sound bar retrofit for 6.5″ rear components or coaxials.
Lastly, TLC Auto Truck is making some really nice upright tweeter pods which will really help the sound stage. I always preferred the upright tweeter location in my 2014 Wrangler over the flat dash design aimed up at the glass.
These aftermarket 6.5″ speaker adapters greatly open up your speaker replacement options for your Wrangler JL/JLU and are highly recommended for the best sound.
If you want to utilize factory locations and speaker sizes, you would basically order two sets of these component speakers – one for the fronts and one for the rear sound bar. Now, technically, you don't have to go with a matching component set in the rear sound bar, you could get away with installing a coaxial such as the Hybrid Integra 402 point source or even one of Morel's other 4″ coaxial speakers such as the Tempo Ultra 4″ or even Maximo Ultra 4″. In our own Wrangler we went with the Hybrid series front and rear and they are truly fantastic. Morel specializes in speakers and they really do a phenomenal job. They are made in Israel and they are known for their incredible tweeter. It is silky smooth, detailed, articulate and vibrant, but never harsh. It it impeccable.
Jeep Wrangler JL Stereo Upgrade – Amp placement and recommendation
With your pre-amp adapter, you can technically install whatever amp or combination of amps you desire, but I can tell you what has worked well for our shop in countless Wranglers. This amp is what my husband John and I each have in our own Wranglers – the Alpine PDX-V9. I highly recommend it. I've used this amp in many high fidelity system installs. It really is an excellent value. It is a compact, high powered and great sounding 5 channel amp. It pushes out 100 watts RMS per channel to the interior speakers and 500 watts RMS to the subwoofer.
This is plenty of power output if you like it loud and clear cruising with the top down. Even on the highway with the top down, you will still be able to hear and enjoy your sound system with this powerful amp. If you are installing this with only the PAC Audio AP4-CH41, and you are not using any separate DSP processor, we recommend you also include their RUXKNOB2 bass knob so you can adjust the sub bass on the fly from song to song.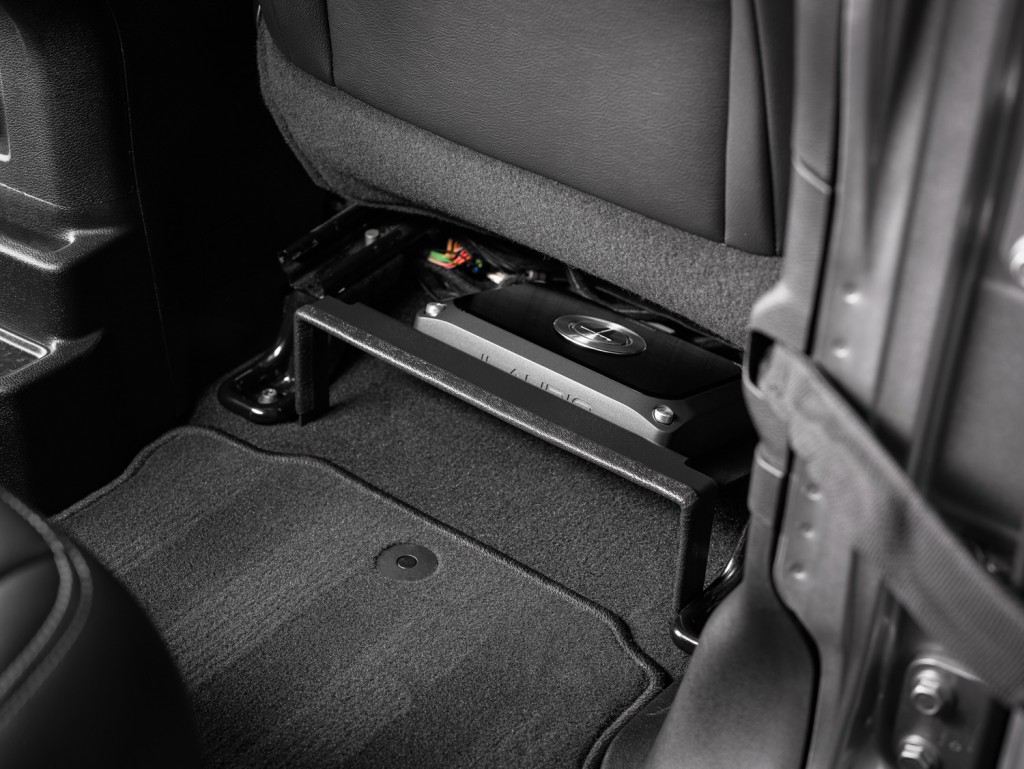 In most Jeep Wrangler stereo upgrades, we install the amp under the passenger seat. JL Audio has a couple install accessories that we used in our own Jeep Wrangler JL stereo upgrade that you may want to consider to make your install a little cleaner and easier. The part pictured above is an under seat amplifier mounting bracket for the passenger side and the part pictured below is a nice mounting bracket for your fuse holder.
Jeep Wrangler JL Stereo Upgrade Subwoofer Options
What about the bass? Thankfully, JL Audio is on top of the ball and they have already designed two different stealth box enclosures for the 4 door Wrangler JL. This vehicle specific stealth box is available for either passenger or driver side (or both) and features JL Audio's 10″ TW1 shallow mount subwoofer.
I know not everyone has the $750 to shell out for a sub like this, but if you can swing it, go for it and while you're at it, go for both of them. This is the best way to add bass that doesn't take up any room, is clean, tight, punchy and loud enough to hear over wind and road noise. Bonus – if you do buy this subwoofer you are also supporting American jobs. it's made in America, right in Miramar, Florida (woofer and enclosure).
Update 11-25-19: SSV Works has available a 10″ enclosure – available with or without a subwoofer at a more budget friendly price. This is a great alternative over the JL Audio Stealthbox.
If you need a more budget friendly option and you're working with the base 8 speaker system, you could consider using Alpine's (made in China) PWE-S8 under seat amplified subwoofer. That is a great amplified subwoofer I have used in many Wrangler's, but keep in mind it's only 120 watts RMS so it's pretty similar in output to what the stock premium subwoofer sounds like. It's not nearly as powerful, deep or punchy as the JL Audio stealthbox, but it still makes for a nice improvement over the base sound system. If you're going to build a basic enclosure for this vehicle, I highly recommend down firing it. The pressure waves will travel along the frame of the vehicle and are less likely to be lost in the open air compared to a traditional, rear facing, pre-fab subwoofer enclosure.
Jeep Wrangler JL Stereo Upgrade – DSP Processor – placement and recommendation
If you want fine tune control such as equalization controls, digital time alignment and easily adjustable crossover points, you'll want to use a DSP processor with your installation. There are many DSP processors on the market. If you use the iDatalink AR you can use an Audison processor or you can use the DSR1 which has the Rockford processor built in. Our shop has tried many different brand processors on the market – Audison, Alpine, Rockford Fosgate, JBL, Audio Control, Helix, Metra, etc. Out of everything we've tried over the past 20 years, our favorite is still the JL Audio Twk-88. It just has the best sound quality and most versatility. Our only complaint is you do need a laptop to set it up. It would be nice if it could be adjusted through an app.
The Twk-88 should be installed with a DRC-205. This control knob has bother an inner and outer ring which can be assigned various functions. For example – when using the optical out of the PAC Audio APA-TOS1, you lose fader control on the head unit. So in vehicles where we are going optical out, we set up one knob as a fader control and the other as sub level control. When you push the knob in and release, that acts as your your listening preset control. You can see in the pic above that we have ours mounted where an outlet used to be. When John and I are cruising together, he pushes the knob in and the color on the knob ring changes to indicate we've switched from listening preset number one (which he set up for him, the driver) to listening preset number two (which he set up for driver and passenger). I believe with the JL Twk-88 you can have up to 6 listening presets.
For a combined amplifier/processor – consider any one of the JL Audio VXI series amps. These smart amps have the Twk-88 processor built in and even enable you to tie in a secondary analog amp. Not only did we do this in the YouTube video above, we eventually installed the VX1000/5i in our own Wrangler JLU after running our Twk-88 and PDXV9 for awhile (we still have the PDXV9 in there mainly to run our rears and have the JL VX1000/5i bridged to our fronts and running our two Stealthboxes). The small footprint and DSP control is impressive. They also added an optional Bluetooth adapter interface (VXI-BTC) which enables you to set up/tune your DSP via wireless connection to an iPad or laptop.
Jeep Wrangler JL Stereo Upgrade – Aftermarket Head Unit Options
If you have the base model, non amplified 5″ screen, you would probably prefer to replace the radio so that you can get better features like Apple CarPlay and Android Auto. In all likelihood, such a head unit would also have a nice clean pre-amp output. However, as of this writing, Metra has not yet made a stereo installation dash kit for this vehicle, but I am sure they are working on it. Technically some of the wiring parts are available, so if you wanted to make a custom dash kit to install an aftermarket head unit, you could, but there are some limitations to be aware of.
Mounting depth is going to be an issue for any traditional aftermarket double din head unit. It's probably only about 5″. The stock head unit is extremely shallow and there are vents behind it. I think one of the best options for head units currently on the market would be the Kenwood DMX7706s which utilizes a very shallow chassis and is iDatalink Maestro compatible. To learn more about the DMX7706s and iDatalink Maestro, check out the video below.
Alternatively, something like the Pioneer DMH-C2550NEX or DMH-C5500NEX could possibly work. Both of these models utilize a modular system. The screen is a thin and shallow component and then there is a separate sub brain for the radio guts and pre-amp. Both of these models are also iDatalink Maestro compatible. Using the iDatalink Maestro RR and CH3 harness, you can retain functions like steering wheel controls, access to and ability to modify vehicle settings and on screen vehicle info like tire pressure monitoring, battery voltage and read/reset check engine codes. However, at the moment, it doesn't look like there are any parts to retain the OEM reverse camera (which is most likely CAN bus activated like most Chrysler/Dodge/Jeep OEM cameras so may not be possible to try and cut and splice and trigger on your own). I'm sure a solution will be available soon for both the dash kit and reverse camera and once it's available, I will update this post with new details.
Update 11-25-19 – It has come to my attention that Scosche has made a dash installation kit for this vehicle which also replaces the climate control panel and hazard button.

The new HVAC controls on this dash kit are all touch screen controlled. This is a $650 dash kit according to Quadratec. It also looks an awful lot like the Scosche Lexus LS2151B dash kit we installed for a customer a few years ago which came with the same style touch sensitive hazard button that goes off at all times of the day by itself. Due to the horrible experience I had with that dash kit (and Scosche's response which was basically to throw their hands up and say sorry, nothing we can do) I cannot recommend this dash kit. It's too bad they don't sell the bezel by itself.
Lastly, if you have the dough to drop, check out Alpine's X409-WRA-JL which is currently available for pre-order and provides a 9″ weather resistant touch screen with Apple CarPlay, Android Auto, built in GPS (with off road mode) – this stereo retains the HVAC display, factory reverse camera and steering wheel controls.

Jeep Wrangler JL Stereo Upgrade – Limited options, but only for a limited time
The Jeep Wrangler is one of the most highly accessorized and popular vehicles on the road. It's only going to be a matter of time until more products hit the market and more options become available. The Jeep Wrangler JL body style is still relatively new, so we are still somewhat limited in accessories and upgrades currently available. However, if you're looking to upgrade the sound system in your Wrangler JL now, you still have some solid methods and solutions available and I hope you found this blog post helpful in exploring those options. I'm sure there will be many more product solutions in the near future. Until then, I hope this post has been informative to my fellow Wrangler JL owners out there. Please let me know what you think in the comment section below.