SEMA 2019 – Metra Electronics will be announcing the release of their new 2018+ Jeep Wrangler JL/JLU 6.5″ speaker upgrade pods.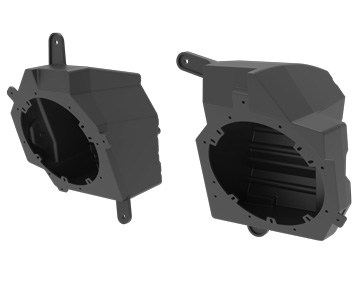 I am super excited to share this. Metra just announced a new Wrangler JL/JLU speaker upgrade accessory for 2018-up Jeep Wrangler JL/JLU and 2020 – up Gladiator. These 6.5″ 2018+ Jeep Wrangler JL/JLU speaker Upgrade pods will allow you to take out that weak excuse of a 4″ dash component and install a proper 6.5″ component speaker.
2018+ Jeep Wrangler JL/JLU Speaker Upgrade Pods open up your speaker upgrade options
Although I have found a few great options for high powered 4″ components to work in the factory locations, those options were not exactly budget friendly. Likewise, paying a technician to modify your factory pods to accommodate 6.5″ added a good chunk of change to your total audio upgrade cost.
These speaker pods will greatly open up speaker replacement options for Wrangler JL/JLU and Gladiator owners. Thanks to their injection mold design, they should be at a more budget friendly price.
From a sound quality perspective – with the top down, this will make a world of a difference for your sound stage. I know this because we did the same thing in our 2019 Wrangler MOAB.
Metra's 2018+ Jeep Wrangler JL/JLU Speaker Upgrade Pods were obviously designed by installers
From a design perspective, Metra did a fantastic job. They built these exactly the way we were going to produce ours. Featuring various common aftermarket speaker mounting points and a speaker adapter harness allowing to you to easily re-use factory grommet and wiring in your install.
I will give you a little background info. Over the summer, driving around with our top down, we were missing have the full 6.5″ on the dash like we had in our JK. So my husband actually made a set of these for our own 2019 Wrangler MOAB. I was so impressed with the difference in sound it made with our top down and doors off that I wanted to make them, mass produce them and sell them. So I ordered an extra set of pods from our local dealer and John made a prototype and we set up a consultation with a designer. We were in the process of getting quotes from the designer to put it into the format necessary for production and getting quotes for injection mold manufacturing. Let me tell you – the cost to design something like this are far higher than you'd probably ever expect.
As consumers and installers of aftermarket accessories, we often don't realize what goes into the design and production of the parts we love to slap into our Wranglers. These 2018+ Jeep Wrangler JL/JLU speaker upgrade pods probably cost Metra around $30,000 just to make one pair. And that doesn't include patent application and lawyer fees which can easily add another $10,000 and they may find the patent rejected due to the obviousness of the design (according to Wikipedia this refers to " if an idea is so obvious that people in the field would develop it without much effort"). As a small business owner, that's a massive investment and big risk to take on so I was secretly hoping they'd come out with these and we wouldn't have to.
So thank you to the team at Metra for making this happen. We understand what it takes and appreciate everything your crew does. No ship date or pricing is available yet, but Metra will announce all the details at SEMA 2019.