Sweet!  Free set of JBL GX602 speakers to review – Wait, can I even sell these in my own shop?
I really didn't know what to expect when the folks over at Harman graciously offered to send me a sample of their JBL GX602 speakers for review.  As a small car audio shop owner, I was aware of the brand, but never had any real hands on experience with the product.
For those of you that don't know, Harman is huge in the car audio industry.  Like really, really huge.  Their family of brands includes (but is not limited to) JBL, Infinity, Harman Kardon, Becker, Mark Levinson and the more recently acquired Bang & Olufsen.  Their audio and infotainment products are used in more than 80% of the world's luxury vehicles.
These guys are serious about understanding and implementing the science behind good sound.  They spend a lot of time and money in research, design, development and product testing. They even have a state of the art facility in Northridge California called the multiple listening lab specifically created for loudspeaker research and testing. This facility houses a one of a kind invention called a speaker shuffler specifically created for their own double blind product testing.
You may be wondering, "Well if they're that big and that serious about car audio, why don't you carry JBL in your store?". Well, until recently, JBL was sold almost exclusively to large retailers like Best Buy or Crutchfield.  Thankfully, once again Harman is seeing the value in small independent shops like mine and they are changing their distribution model. I'm pretty happy they are making this shift because these speakers do rock and I gotta have them in my shop.
JBL GX Series – Best Entry Level Car Audio Speakers
After installing these in our sound board and turning them on for the first time, I was pleasantly surprised.  To the point where I grabbed my husband John and said, "Babe!  You gotta take a listen to these – they're really good!".
The JBL GX series speakers definitely made an impression on me.  For a variety of reasons, I feel these are the best entry level car audio speakers I have heard.  When I say entry level, I mean the land of $99.95 6.5″coaxial car audio speakers.
Efficiency and Output
The JBL GX602 speakers are incredibly efficient – surprisingly efficient.  Increased efficiency means these speakers will play pretty loud with minimal power. Harman attributes this to their patented Plus One Woofer Cone technology.  This design creates up to 35% more surface area on the woofer cone.  The increased surface area equates to higher efficiency and sensitivity.  In audible terms, there is an undeniable difference in output between the JBL GX602 and the leading competitors entry level 6.5″ speakers.  In other words, they're louder than their competitors.  This also has to do with the fact that these speakers use dual 3 ohm voice coils creating a nominal impedance of 2.3 ohms.  Standard car audio speakers are single voice coil 4 ohm.  The slightly lower impedance allows slightly more power to flow from the head unit or amplifier to the speakers.
Balance and Clarity
They're not just loud, they're clear and tastefully balanced.  I auditioned the JBL GX602 speakers with a variety of music. From Sheryl Crow's "We Do What We Can" to Mark Ronson's "Uptown Funk" and a little bit of Nelly Furtado's "Fresh Off The Boat".  Over a variety of genres and songs, the JBL GX series speakers consistently performed in a loud, clear and accurate manner without any level of harshness.  I was surprised at how smooth they were considering their "in your face" presence.
Directional Tweeter
JBL also uses a special tweeter deflector which helps to direct and disperse top end detail to the driver.  I LOVE this feature.  I usually use this line to up-sell a customer to component speakers, "What good are tweeters if they're aimed at your ankles?".  That's essentially what you're doing with a traditional coaxial speaker mounted in your door.  However, with JBL's tweeter deflector, this is less of an issue.  For the customer who can't make the investment into components (or doesn't feel like installing them), this little feature really helps to direct that sound stage up to where the driver can hear it.
JBL GX602 Review – Should you buy them?
I love these speakers for the customer who:
Is interested in doing a full system on a limited budget (head unit, speakers, amp/sub).  These customers will benefit from the sound quality of these speakers and the increased efficiency.  A subwoofer will add depth and punch and really compliment the range the GX series are capable of.
Is replacing blown stock speakers.  Perfect for when a customer walks into my shop and they just want to replace blown or dry rotted stock speakers, but they still want to keep the stock head unit.  Other brands are less efficient and depending on the stock stereo, they may actually end up being quieter than the original stock speakers.  These speakers are an ideal upgrade for anyone with a stock stereo looking to upgrade speakers.
Wants it loud, but can't afford an amp.  If you've already blown your aftermarket speakers, but you are not willing or able to invest in a 4 channel amp, you should buy these speakers.  They will play louder than many competitors speakers all due to that increased efficiency and 2.3 ohm load.
Interested in value.  These speakers include gasket tape, speaker mounting adapters, screws and hardware. The gasket tape and mounting adapters could otherwise add another $20 to your install.  The fact that they are included shows these speakers are a great value.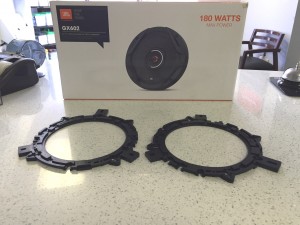 Although I only listened to the JBL GX602's, the GX series is offered in a variety of sizes from 3.5″ to 6″x9″ and everything in between.  After listening to these speakers I emailed Harman," Wow- I gotta have them".  I look forward to meeting my JBL rep next week and carrying the JBL GX speakers in my own shop. What do you guys think?  What kind of experience have you had with JBL products?