JL Audio reveals several new model amplifiers, powered subwoofers and hints at new processor at CES 2015
While attending CES 2015 I paid a visit to JL Audio over at the Palms Casino Resort and Hotel.  I have to thank JL Audio for staying out of the crowded and noisy convention center and allowing their dealers a much more intimate setting to display and explain new and developing products.  JL Audio knows it's all about quality, not quantity.  This is at their core in everything they do.  You can see that reflected in their product, their marketing approach and even in how they show their dealers their new products.
Check out the view from the 32nd floor suite.  What's that in the middle of the pool, you ask?  What you see pictured in the center are the two new amplifiers I mentioned in a previous post.  The HX280/4 and HX300/1 – offered in both Black and White (Car/Power Sport or Marine).  The HX280/4 is a 4 channel amp producing 50 watts x 4 RMS at 4 ohms.  The HX300/1 is a mono producing 300 watts x 1 at 2 ohms.  Both models have received IPX6 water resistant ratings.  Having heard and seen these amplifiers in person, I can tell you they absolutely pass the water proof test.
Here is a close up view.  By the time I saw and heard these amplifiers, water had been pouring over them for days and they continued to play without issue.  What you can't see or hear is that these amps were actually wired up and playing in this condition.  Off to the right and left of the pool were a couple JL Audio Marine speakers and subwoofers which were playing loud and clear.  These new JL Audio amplifiers revealed at CES 2015 are a no brainer for Marine applications as well as Motorcycles, Power Sports, Jeep Wranglers and other ATV style vehicles – even a golf cart.  Technically they're not waterproof, they're water resistant.  But I'd say they're pretty freaking resistant.
JL Audio reveals several new Amplified Microsub models and new Marine speakers and subwoofers during CES 2015
Aside from some really cool new amplifiers, JL Audio also announced several new amplified Microsub enclosures.  I am so excited to see these new amplified subwoofer options from JL Audio.  They've taken their existing successful Mircosub design and have imbedded a powerful, efficient amplifier to drive these enclosures.  In order to increase efficiency, they have dropped the impedance on these subs to something like .6 ohms.  The amplifier is designed specifically to work with this very low impedance, much like a Bose amplifier and speaker combo works.  JL Audio claims these new amplifiers have an efficiency close to 96% which is pretty rare in car audio and quite impressive.
Here is a side view of one of these new amplified Mircosub enclosures.  You can see there is a high level input or RCA and remote bass knob is optional. They will be offered in 8″, 10″ and 12″ style enclosures.  I believe there will also be a dual 8″ option as well.
These new JL Audio amplifiers are rated at an impressive 400 watts RMS.  The enclosures will be offered in both sealed and ported varieties.  Additional upgrades to the JL Audio line include a new 12″ Marine subwoofer and cosmetic upgrades to their existing Marine speaker line.
The new line of JL Audio Marine speakers will be offered with cool blue LED lighting.  JL Audio currently offers their Marine products in several grill styles in either Classic White or Titanium Gray.  This year they will also be offering their speakers in a Chrome finish.  At the moment Blue will be the only color choice for accent lighting.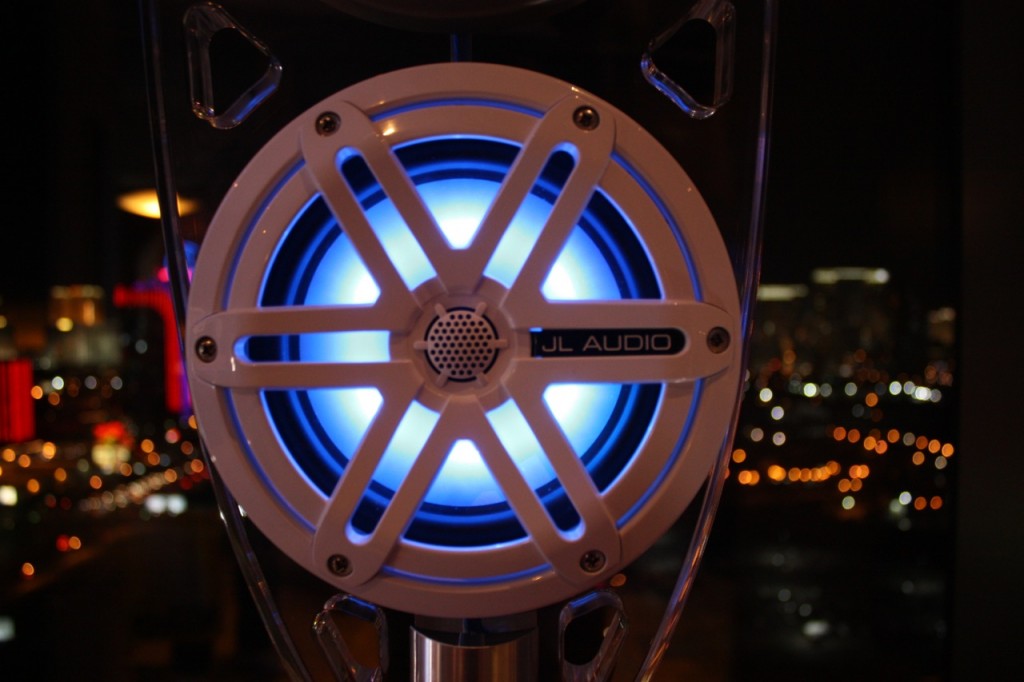 JL Audio has also partnered up with Kody over at VooDoo Bikeworks from Phoenix, Arizona who is fabricating enclosures for various motorcycle applications specifically designed to house JL Audio Marine speakers.  Kody had a bike on display which was not only visually impressive, but audibly impressive.  Kody even designs and sells Fairings designed to house 8.8″ speakers and a double din head unit.  The best part about his designs are that they maintain existing storage space.
JL Audio hints at a new processor in the works – no photos allowed
I'm not sure how much JL Audio wants me to say on this subject as they quickly stopped me from taking photos of some interesting prototypes they were demonstrating, but I have to mention it.  The JL Audio Cleansweep has been a reliable and successful processor for OEM integration for more than a decade.  However, there is no denying that OEM audio systems have become much more complex and sometimes require summing signals from more than 3 audio signals and additional manipulation and equalization.  These are things you just can't do with the Cleansweep.
Thankfully, JL Audio is working on two new products that will solve this problem: the Fix and the Twk (pronounced Tweak).  The Fix will address an issue that all other processors on the market do not seem to address.  It will account for and correct factory time correction before auto equalization which will allow for an even cleaner signal than ever before.  Additionally, it will have 4 channel summing built in.  For additional equalization control, the Twk can be added.  The Twk adds 8 analog inputs and 2 optical inputs, 10 band equalization adjustable separately for left and right channels.  It will have multiple EQ preset options for various driver preferences and driving scenarios.  You know what it's really going to do?  It will give Audison's Bit One and Alpine's PXA-H800 Processor a run for their money.  JL Audio is still in the process of developing the product and software at this point.  JL Audio probably has at least another 9 months to a year in development.  Details on pricing have not been released yet, but I've been told by we will all be pleasantly surprised.
Shout out to my lovely assistants
Attending CES and writing about it is quite a bit of work and usually requires a team effort.  Traditionally, my lovely assistant at CES is always my hubby John.  This year however, hubby had to stay back home in Connecticut and keep the shop open (and care for our cats) while I attended the show.  I am grateful to John for his sacrifice because I know running the shop and caring for the cats is a LOT of work for one person.  His willingness to do so afforded me the wonderful opportunity to take my Dad along instead.  My Dad had never been to Las Vegas before and he'll be turning 69 January 12th.  I don't get to spend a lot of time with my Dad, especially just the two of us.  What better birthday present is there?
This CES was incredibly special to me and I am so thankful for the opportunity.  The last time I spent this kind of time with my Dad was when I was a little girl, maybe 5 or 6 years old when he was called in to work on Saturdays and I tagged along.  This time around I got to bring him to work and it was an absolute blast.  So thank you John for supporting me back home while I was away on this trip.  And thank you Dad for being my lovely assistant – I hope you had the best birthday ever.