Alpine CES 2015 – Additional Direct Fit solutions for Jeep Wrangler, Dodge Ram, Ford F-150 and GM truck and SUV models.
Alpine's direct fit line of solutions has expanded with several new vehicle specific models and vehicle specific dash kits for their X008 and X009 models.  Among the new models includes:
X009-FD2 for select Ford F-150 models 2013 and up with the 4.2" MyFord Touch radio.
X009-GM2 for upper dash style GM Truck and SUV models 2007-2013
X009-RAM for 2013 and up Dodge Ram (without 8.4″ factory UConnect radios)
X009-WRA for 2012 and up Jeep Wrangler
KTX-ESD8 Dash kit for select 2007 – 2014 Cadillac Escalade
All models were on display at Alpine's booth during CES 2015.
The X009-FD2, like other direct fit solutions from Alpine will ship with iDatalink Maestro integration and offer consumers the option to retain Sync or eliminate the feature and re-map Sync controls for Siri voice activation.
This model also includes impressive climate control integration.  Alpine Electronics is proudly fabricating and tooling all of their own dash kits and the quality, fit and finish in some many applications is superior to OEM quality and finish.
On their impressive new X009-GM2 kit, I noticed the texture and finish was actually smoother and of higher quality than the rest of the OEM dash. This kit is designed for the more popular 2007-2013 GM vehicles with upper dash style stereo that GM offers. This is a rather large kit requiring quite a bit of re-working of the factory dash. Alpine has fabricated a kit that includes quality materials which replaces existing heat/AC vents and power ports.
The model shown in this photo is an unfinished prototype. There are two outlets are on the driver side. In the photo, one is open. In the finished product, there will be a USB/AUX port. Alpine's kit will come complete with everything a consumer would need to install the X009-GM2 in his or her vehicle. These are truly direct fit kits and now come backed with a 3 year warranty.
Alpine has also added a new model for Dodge Ram vehicles, the X009-RAM which will fit 2013 and up Dodge Ram models (without the 8.4" Uconnect touch screen). The X009-RAM is expected to begin shipping this month.
One of the more exciting additions to the X009 line up is their new 2012 and up Jeep Wrangler X009-WRA (Maybe it's just more exciting to me because I own a 2013 Jeep Wrangler – I'm totally thinking it needs a new demo head unit).
I had a hard time believing Alpine was able to squeeze a 9" touch screen into that OEM Jeep head unit opening, but leave it to Alpine to fabricate a custom fit dash kit that accomplishes this beautifully. This kit replaces the entire bezel that surrounds the stereo and heat vents and will fit both the two door and 4 door model.
Alpine is looking at an expected ship date on the X009-WRA of March 2015. They are currently working on iDatalink Maestro integration harnesses so this will be more of a plug and play installation allowing retention of OEM steering wheel controls, USB port, Aux port and even displaying vehicle information on the Alpine screen.
Other additions in the direct fit line include a new installation dash kit to house the Alpine X008-U in Cadillac Escalade 2007 -2014.  The KTX-ESD8 will allow Escalade owners to easily install the oversized 8″ Navigation system nice and flush into their dash without modification or custom installation.
Direct Fit Sound Systems for 2007 – 2013 GM Trucks
Staying along the same lines of their direct fit head unit solutions, Alpine is introducing a new total audio upgrade solution that is vehicle specific. One of the first kits they will be offering is for GM trucks.
The PSS-21GM is designed for 2007 – 2013 GM trucks and includes a set of GM specific 6.5" component speakers and 6.5" coaxial speakers complete with OEM style tweeter pods and GM speaker mounting brackets.
This system also includes a new 5 channel amplifier, the MRV-V500. This new amplifier provides roughly 50 watts x 4 to the interior speakers and 250 watts x 1 to the subwoofer channel.  This new amp will be offered separate from the GM package as well at a retail price of $350 and is expected to ship in late Spring.
It's all about the bass
No car audio system is complete without a subwoofer and Alpine has thought of a space saving design and solution for GM truck owners who do not want to sacrifice under seat storage. Their new Direct Fit subwoofer for 2007 – 2013 GM 4 door trucks is designed to fit behind the back of the rear seat and includes a shallow mount 10" driver in a ported enclosure.
This design is very similar to what you might find in a new GM with a factory Bose system. Alpine is providing consumers with a seamless way to enhance their audio system with a solution that is designed specifically for their vehicle. They're trying to keep the total package cost around $1000 plus installation, but price and availability has yet to be announced.
New Reverse Cameras introduced by Alpine at CES 2015
Focusing in on the safety of their truck customers, Alpine is introducing a new line of OEM style reverse cameras with multi-view option and capability. These new Alpine reverse cameras are OEM fit and finish and even include new lock cylinder and LED accent lighting.
The lock is designed to learn your key after you install it and insert your key into the lock for the first time. The new camera has 4 viewing modes: Rear, Ground, Corner and Panorama. It will only work with their AVN units that offer the Alpine Direct Connection Rear Camera Connection.  Don't own a GM truck? Don't worry. Alpine has a nice universal camera that also features Rear, Ground, Corner and Panoramic View.
The HCE-C252RD rear view camera from Alpine is pictured here with optional universal license plate mount KTX-C10LP frame. Like the previous camera, this is also an Alpine Direct Connection style camera and will only work with Alpine models that support this connection.
New Double Din and Single Din head units from Alpine revealed at CES 2015
Alpine is replacing their INE-W940, an entry level double din touch screen navigation with the all new INE-W960. The INE-W960 features a 6.1" touch screen, rear USB port, rear AUX in, SiriusXM capability, Bluetooth for handsfree and audio streaming and 4 Volt preouts.
The new INE-W960 will be competitively priced at $699. The INE-W957HD will remain as a carryover model since it was only recently introduced mid year. That model adds 7" screen, iDatalink Maestro capability, HDMI input, HD Radio and Digital output.
Alpine also has a new double din (non AVN) style unit to offer consumers. This year at CES 2015, Alpine introduced the CDE-W265BT. This model features an easy to use layout, large display, large volume knob and quality hard buttons that are logically laid out. The CDE-W265BT features: AM/FM tuner, SiriusXM capability, Bluetooth for handsfree calling and audio streaming, front USB port, front AUX port, multicolor illumination, three 4 volt preouts, 9 band EQ, high pass filter, low pass filter, sublevel control and Pandora control. I think the only thing missing is HD Radio. This model is slated to come in around $260.
Prefer a good old fashioned single din Alpine head unit? Alpine is introducing one new single din head unit this year, the CDE-164BT which will be replacing the CDE-154BT. The CDE-164BT is very similar in features to the CDE-154BT. Single CD, AM/FM tuner, SiriusXM ready, Bluetooth for handsfree calling and audio streaming, USB, AUX in, 9 Band EQ, three 4 volt preouts, high pass filter, low pass filter, sub level control and multicolor illumination.  The CDE-164BT will sell for around $230.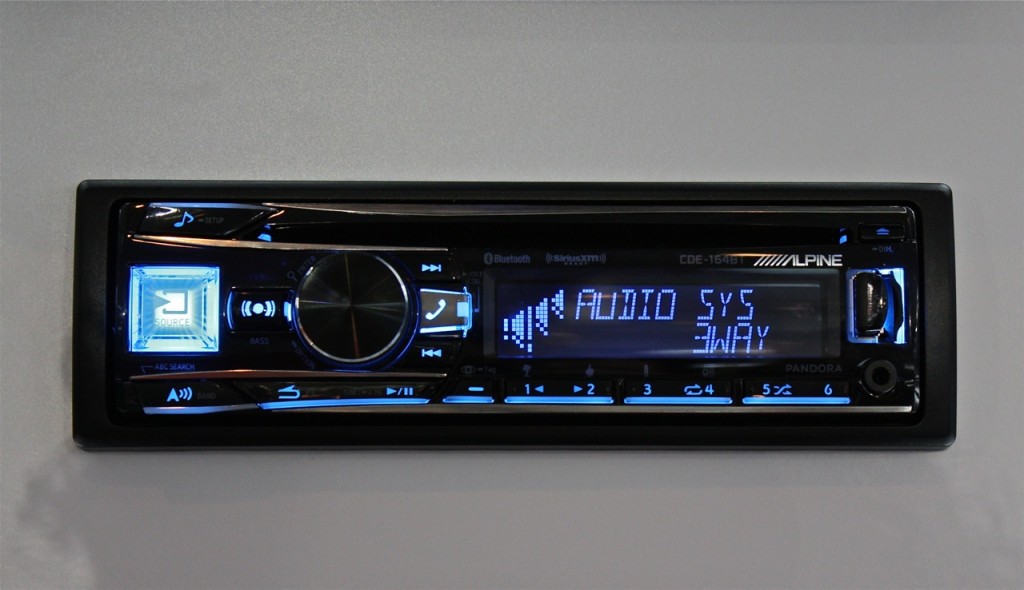 Alpine CarPlay CES 2015
I was surprised that Alpine had no new CarPlay models and have no plans at this time to introduce the feature to their X008 and X009 models.  The iLX-007 was recently released in October and there are no additional CarPlay models in the works at this time.  Upon asking about the mystery "Wifi Enabled" feature listed on the iLX-007, I was told this was a feature included by Apple and they're not exactly sure what Apple plans on doing with it.  The only logical solution we can come up with is Apple eventually wants to allow CarPlay to work wirelessly with the iLX-007, but the details and potential release of that update is all under Apple's control, not Alpine's.  I did point out to Alpine that the scrolling ability is quite different on their CarPlay model compared to Pioneer and Kenwood CarPlay models.  Interestingly, Pioneer and Kenwood allow fast flicking style scrolling (exactly like what you can do on your iPhone) whereas the Alpine iLX-007 only allows for one page at a time when scrolling.  No word on if that will ever be changed or updated.