Looking for the Best Double Din Navigation for 2016?
Car Stereo Chick reviews and compares the Kenwood DNX893s, Alpine INE-W967HD and Pioneer AVIC-8200NEX
Double din touch screen navigation stereos are one of the most popular selling products in our showroom. Who wouldn't want:
On board GPS Navigation (that doesn't use your data)
Better sound quality
Bluetooth
USB input
Reverse camera capability?
There are a lot of reasons to upgrade your factory radio to a brand name aftermarket double din navigation, but who really makes the best double din navigation for 2016? Well, as I explain to my customers in my showroom, that answer all really depends on what features are most important to you and how you plan to use your new stereo. Each brand has its own strengths and weaknesses as you will see. Get ready for an in depth review on all the Kenwood DNX893s, Alpine INE-W967HD and Pioneer AVIC-8200NEX!
Attention – Please note this is first draft – revisions and additional details to come shortly. Forgive me for any grammar or spelling errors, I usually proofread and revise my posts 30 times before publishing, but I know a lot of you have been waiting a long time for this.
Pioneer AVIC-8200NEX – I'm popular
Like the Nada Surf song, the AVIC-8200NEX is a bit of a catch and when it comes to the choosing the best double din navigation, it is never last picked. The nice thing about the AVIC-8200NEX is the operating platform has been around for a couple years so it is a proven, reliable system. Alpine and Kenwood on the other hand just unveiled brand new operating systems for their units so I'm sure we will see a quirk or two reveal itself over the next coming months. I find the user interface of the Pioneer one of the easiest ones to use and personally one of the most pleasing to the eye, but hey, beauty is in the eye of the beholder.
From the home screen you have several easy shortcuts to:
Apple CarPlay or Android Auto
GPS navigation by Here Maps
Bluetooth Telephone
Your 3 favorite sources
What's currently playing
Settings
The theme colors and button colors can all be personalized to match your vehicle interior and preference.  You can make it as colorful or as dull in appearance as you like.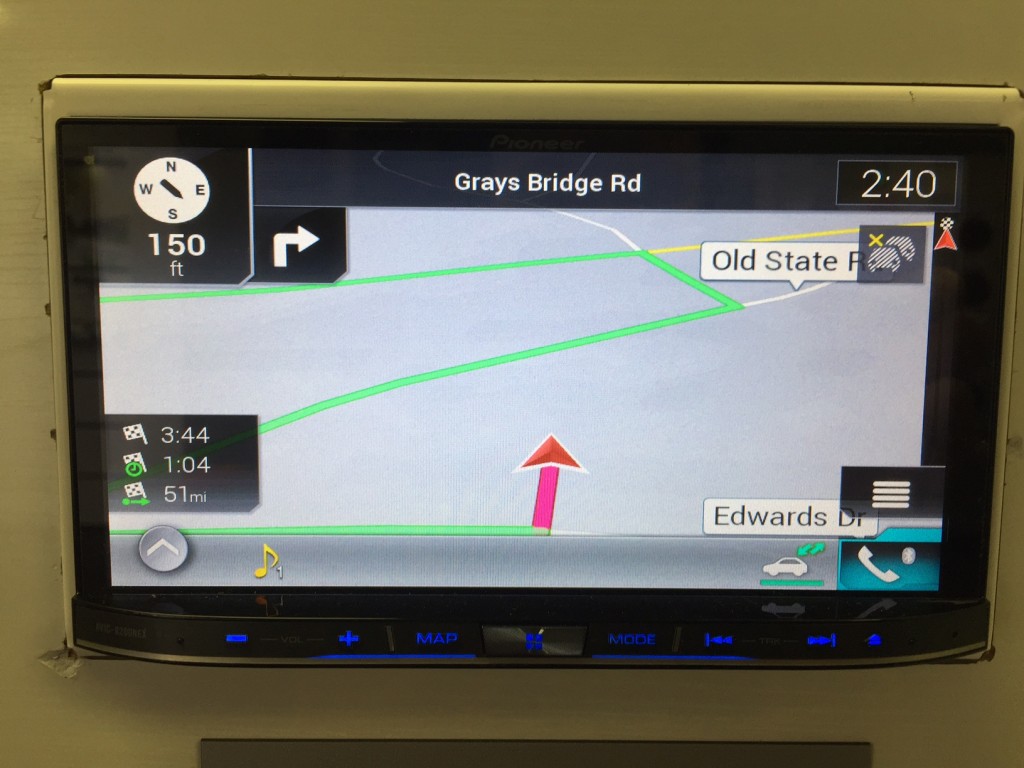 Pioneer uses Here Maps for their on board GPS navigation system. Compared to Kenwood's Garmin navigation, you might find the roads to be skinny and the icons rather small. However, you could just as easily say the icons on the Garmin are too large and take up vital real estate on the 7″ screen. I've had 97% positive feedback from customers regarding the navigation, however I do have two complaints I think are worth noting.
I had one customer find it maddening during a long trip from Maine to Connecticut that the system would not automatically re-route to the new route he had decided to take. He had taken the trip numerous times and knew of a couple routes/highways he could use. Although he allowed the system to pick the fastest route, he continued on another route that he knew. However, at every exit the Pioneer navigation (Here Maps) wanted him to get off the highway and get back onto the original route that had previously been calculated and selected. FYI, there is a way around this – you can select an alternative route from the navigation screen, but the navigation couldn't figure it out on its own. I guess we're so used to Google reading our minds all the time that we find it annoying when our electronics don't, you know, just KNOW what we're thinking.
I had another customer tell me how it wanted them to go the wrong way down a one way street and additionally, it also seemed to think she lived on a one way street because it always wanted her to loop around the block to get to her home address (which was not on a one way street).
One thing worth mentioning is the Pioneer features a latest maps guarantee which is a feature of Here Maps. You will notice these units come shipped with 2014 Maps, but it's pretty easy to download the latest maps.
Overall the Pioneer AVIC-8200NEX is a full featured and well rounded GPS navigation stereo that ticks off a lot of boxes for users. Aside from on board GPS, the AVIC-8200NEX also features Android Auto and Apple CarPlay.
The Pioneer AVIC-8200NEX features a glass capacitive touch screen which is very bright and responsive. I get asked a lot what that means and basically, a glass capacitive touch screen is like the screen on your smart phone. They are brighter, more saturated in color and more responsive than a traditional TFT resistive touch screen (found on the other Pioneer models AVIC-5200NEX, AVIC-6200NEX and AVIC-7200NEX). The Pioneer AVIC-8200NEX also has all the standard audio features for a sweet aftermarket sound system including:
Three 4 volt pre-amp outputs
13 band EQ
Digital time alignment
Overall, the Pioneer AVIC-8200NEX packs in most of the features consumers are looking for these days in a nice easy to use product at what I think is a fair price. I would say my customers think so too because they tend to gravitate towards Pioneer over Alpine or Kenwood (after seeing them in our showroom and checking them out in person).
There are only a few things that annoy me about this model. When it comes to Bluetooth, you cannot have more than one device connected at a time. You can have multiple devices paired, but only one connected at a time. Not ideal if you have a work phone and personal phone, but I would say this probably only effects a small percentage of people.
The only other drawback is sound quality. When it comes to building a high fidelity car audio system, for the true audiophile, the sound quality could be better.  It's by no means, bad, but where Pioneer lacks, Kenwood prevails.
Kenwood DNX893s – The overachiever
Traditionally, Kenwood's Excelon series head units have always been known for their superior sound quality and thankfully the DNX893s remains true to the Kenwood Excelon sound quality legacy.
Featuring a 5 volt pre-amp output, the Kenwood DNX893s sounds smoother, more detailed and slightly more natural in tone when compared to Pioneer and Alpine (with everything set flat). Certain tones and frequencies are simply less harsh and more pleasing to the ears. I also have to give some serious bonus points to Kenwood for this additional feature:
Memory Recall – I LOVE this feature of the Kenwood DNX893s
This might seem like such a minor detail, but it can save you time, hassle and a headache. Imagine spending an hour sitting in your car and setting the equalizer for each individual audio source, painstakingly taking the time to measure and set the time correction settings only to find all your hard work has been lost after bringing your car in for routine mechanical service.
If the battery is disconnected, even for a short period of time, both Alpine and Pioneer will lose all audio settings. Kenwood has always had this recall feature for as long as I can remember. You can memorize all your hard work and save it and if you ever need to recall it, you simply hit the recall button. I absolutely LOVE this feature. If you go with Alpine or Pioneer, do yourself a favor and take a couple pictures of your audio settings so you can redo them if you ever lose them. Or just buy the Kenwood DNX893s and hit the recall button.
Bigger Must be Better
The user interface of Kenwood is all about big icons. I think the engineers at Kenwood got tired of hearing me and other dealers complain about the small icons, small clock and difficult user interface. They decided to shut us all up with huge icons, huge text and an intuitive user interface. Cool.
As you can see from the home screen on the Kenwood you have easy shortcuts to:
Navigation
What's now playing
Two favorite sources (easily selectable)
Telephone
Settings (quick tap of the menu button brings up settings)
The icon on the top right is selectable as well – you could either display GPS directional info, bouncy EQ or the clock.
What's not cool about this screen? Well, if you don't have anything playing with album art information, the top left icon will show a silly blue splash screen and I don't think there's a way to change it. Not that I've figured out anyways.
Garmin GPS Navigation – I think it's better than Here Maps
Everyone has heard of Garmin. They debuted their first automotive GPS system, the Street Pilot, back in 1998 and they have become a household name in the years since. Some find the map layout to be a bit cartoonish, but for those of us that are past that age of, let's call it having youthful eyesight, the larger icons are well received.
Remember the client I mentioned with the Pioneer navigation that was telling her to loop around her block every time she wanted to go home? I eventually installed this unit instead and she has told the me the GPS has worked flawlessly for her. She found the maps a lot easier to see (she has a Jeep Wrangler by the way, so a convertible) and she found the actual navigation was more accurate. I will mention the unit comes shipped with 2015 maps and I did check to see if there was a free map update, but there isn't.
Speaking of convertibles and glare – have you ever heard of reverse tilt?
Most 7″ touch screen navigation stereos have a motorized face that will allow you to tilt or angle the screen back. Kenwood is the only one I am aware of that offers reverse tilt. This is such an awesome feature. So many vehicle dashes these days have an angle to them that really places the vehicle stereo screen in just the worst angle for sun glare. The reverse tilt feature really helps to cut down on that tremendously. I think because of that feature alone, this would be the navigation radio I would encourage all my Jeep Wrangler customers to purchase.
DNX893s – Bonus Features and Pet Peeves
There are a few other really stand out features of this unit worth mentioning. All of these units are iDatalink Maestro compatible, however the DNX893s features some advanced integration such as the soon to be released K40 radar detector integration on screen.
Additionally, I was blown away by how good the FM/AM reception is on this head unit. When installing it on my sound board I noticed a ferrite bead on the antenna connection cable. I don't know if they did anything other than that to improve it, but seriously, I have been blown away by the stations this thing pulls in in cars that don't usually have great reception to begin with (Jeep Wrangler for one and Mercury Mountaineer for another example).
Okay, now for the surprising and the irritating – no remote control included. Oh and no paper owner's manual. I was pretty shocked, I really thought the units I got shipped were missing parts. I mean for a $1300 stereo, you would think it would include a remote control or at least a paper manual.
And as for the dual USB inputs, I think the second one is kind of worthless.
Notice one is labeled iPod/iPhone? That's your main USB input. Aside from an iPod or iPhone, you would also connect Android Auto to that USB port. So what can you do with USB 2? Well, you can't connect an iPod to it, that's for sure. You'll get an error on the screen. When I think back on the Kenwood training, I'm pretty sure they said that second USB input would be for like a memory stick with music on it. So that's kind of annoying if you're the kind of person that likes to be able to use their cell phone (either Apple CarPlay or Android Auto) and also have an iPod connected to a secondary USB as a back up music source. My husband John and I do this in our Jeep because we often go into areas of Connecticut without cell service on our Sunday drives and it's just nice to be able to switch your source on the stereo rather than having to try and disconnect your phone while you're driving and connect your iPod instead. Just sayin, they could have made it play an iPod.
 Alpine INE-W967HD – The underperformer
Oh, Alpine – why do we have such a love hate relationship? I love Alpine's ease of use and their sleek OEM appearance. I love that you can eliminate redundant or unused sources from your source screen. Sometimes all you want to see is all that is available!
I even love the easy to use swiping menus which you can view in this quick video I made for a customer of an X109-WRA in a Jeep Wrangler.
Alpine, where's the value?
I hate that it feels like you're really not getting a lot for your money. For a $1500 navigation Bluetooth radio, you would think it would at least come with a CD/DVD player or maybe Apple CarPlay or Android Auto (no, it doesn't). But wait, there's more.
Check out this craziness – I sold and installed one of these in a 2008 Porsche Boxster and it looked beautiful. And I meant to take pictures on the install, but after seeing this model came equipped with 2014 maps, I did what I always do for my customers I started to work on downloading the latest maps – thanks to the Here Maps latest maps guarantee. However, 3 hours later, after 3 different attempts, using 3 different computers and 3 different USB drives, I started to lose it. Half way through each attempted download I kept getting the error "There is not enough memory on your device". I thought maybe that was not enough memory on my computer or not enough memory on my USB drive. Finally I called Alpine tech support to see what was up (yeah, I'm stubborn, I prefer to try and figure things out on my own before calling someone for help). So get this – it wasn't me or my computer or my USB drives – Alpine didn't put enough memory in the stereo! Alpine's solution? Uncheck the update box for Canada. Really, who goes there anyways? Just joking Canada 🙂
If you can get past the high price, the lack of Android Auto, Apple CarPlay, CD/DVD Player and updated Canadian Maps you might really enjoy some of the cooler aspects of the Alpine INE-W967HD.
One thing I found pretty neat is the built in microphone for the Bluetooth. It actually works quite well and that's one less thing you have to worry about wiring and mounting. Another feature, pointed out to me by one of my well informed customers (Thanks Ryan!), is the parametric EQ. While Kenwood and Pioneer feature a graphic equalizer, Alpine has a parametric EQ which allows you to adjust the center point of the frequency you're adjusting and the width of the frequency (also known as Q factor).
Additionally, you still have basic audio adjustments like bass and treble under Tone Adjustment which is accessible with a quick swipe down on the top of the screen.
The screen itself is very responsive and intuitive. Kudos to Alpine on that. They call it a capacitive touch screen, but it does not have a glass finish like Pioneer or Kenwood does. In fact, that may be better in high glare situations. I haven't installed enough to really see the difference in bright sunlight, but I imagine there would be less reflection.
I find the overall appearance and graphics to be less flashy than Pioneer and Kenwood and more OEM which really makes it look like it belongs in a vehicle, rather than appearing like an aftermarket product.
Alpine INE-W967HD Sound Quality
When it comes to sound quality, we have found that the built in Alpine amplifiers tend to sound bright and harsh when compared to Pioneer or Kenwood. However, when using an external amplifier, most of that tininess and harshness disappears. Interestingly enough, Alpine also happens to make what we think are some of the best sounding amps out there – their PDX series is our favorite. Yet even with an external amp, it is worth noting the Kenwood DNX893s has a more natural, smoother tone to it.
So who wins Best Double Din Navigation 2016?
I would have to declare Kenwood's DNX893s the winner based on sound quality, GPS performance and bonus features like reverse tilt, memory recall and improved FM/AM reception. It's a great balance of features at what I think is a fair price. However, determining which navigation system is right for you depends on what features are most important to you and what kind of user interface is most attractive to you. For a minimalistic, OEM appearance, you may have to cough up a few bucks and give up a few features and go with the Alpine INE-W967HD. If you prefer a less cartoonish navigation than Garmin, but you still want Android Auto and Apple CarPlay, then you should consider the Pioneer AVIC-8200NEX. They all have their pros and cons and I hope this in depth review has helped you select the right one for your particular tastes and needs. Thanks for reading!