BavSound for BMWs – Better Sound Simply from Better Speakers?
Recently our shop was presented with the opportunity to install and review the BavSound Stage One Speaker Upgrade in my buddy's 2010 BMW 135i convertible.  I had not heard these speakers in person and I was truly curious about what kind of improvement could be achieved with a simple $388 speaker upgrade.
Considering what we normally do to upgrade a stock BMW sound system, I wasn't expecting much from a simple speaker upgrade. The average ticket on a BMW audio upgrade at our shop usually ranges from $3500 – $6500 depending on which stock stereo the vehicle is equipped with and depending on the quality of speakers the customer chooses (usually Morel speakers – either Tempo, Virtus or Hybrid).
For vehicles without the Logic 7 fiber optic amp, we normally would recommend:
Upgrading the door speakers and tweeters
Installing a better quality amplifier to power those new speakers along with powering up the stock under seat subwoofers
Installing a more traditional car audio subwoofer (and mono amplifier) in the trunk along with a dedicated subwoofer control knob discreetly mounted like so:
If you have the Logic 7 system, I'd tack on another $800 or so in digital pre-amplifer interfacing.  Oh, and I'd ask you to drop your car off for 2-3 days to do all this work.  Huh, when I put it that way, kind of sounds like a LOT to ask for a stereo upgrade!  What if you want to upgrade your BMW stereo without completely overhauling it and dropping a few grand?
Why can't we just upgrade the speakers?
That's actually a common request I get from customers coming into our shop looking for better sound quality. Their logic is better speakers should provide better sound quality. Although that's a logical thought, typically what happens is I'll get on my soap box and explain that,
"When it comes to upgrading your stock audio system, speakers are not the place to start. It's like taking two steps forward and one step back. You're limited to the sound quality and output of the original stereo and amplifier. You might put better quality speakers in your car, but without also upgrading the source unit and/or upgrading the amplifier, you'll never really get the full potential of the car audio speakers." 
Yeah, well, after hearing these speakers, I don't think I'll be saying THAT anymore – to my BMW customers anyways.
My standard sales pitch is true when we're talking about aftermarket speakers that have been designed and engineered to work with aftermarket stereos and aftermarket amplifiers, but what about a company that decided to engineer speakers for the stock stereo and amplifier?  What if they designed the speakers around the car? Then my friends, you have a game changer and that's exactly what the BavSound Stage One Speaker Upgrade is.
Speakers Designed and Engineered for your BMW
BavSound believes that upgrading the sound system in your BMW should be easy.  They are so passionate about making BMW audio upgrades easy that they created a line of speakers engineered specifically for BMW vehicles with a true plug and play design.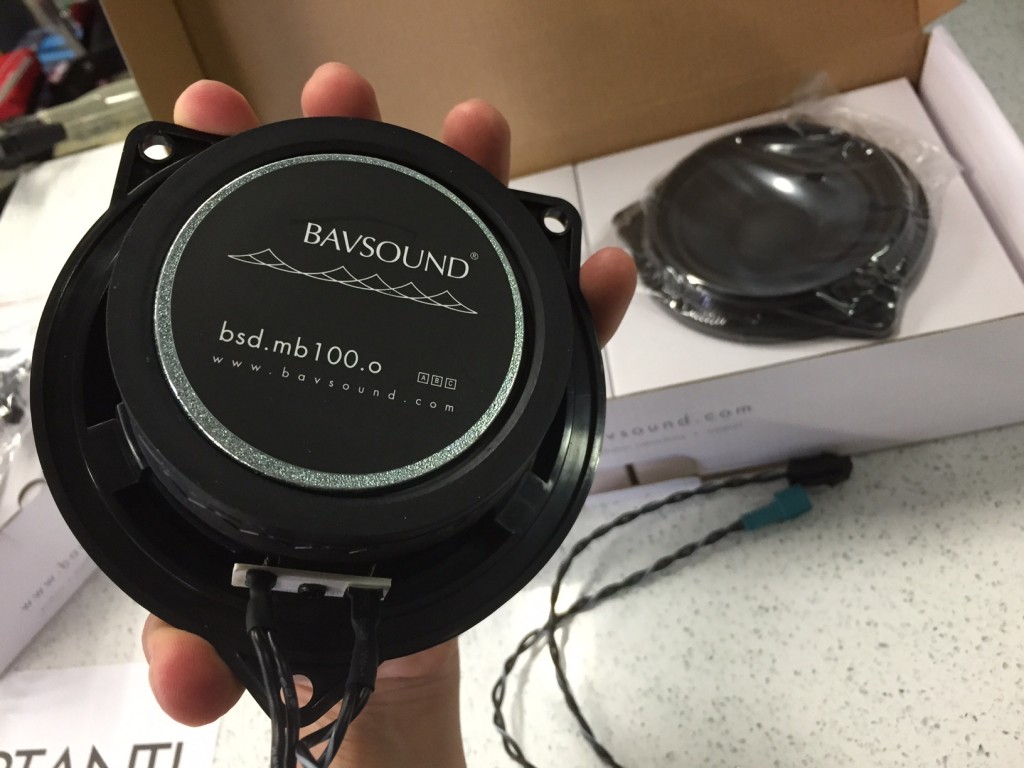 Really – these speakers plug right in to factory speaker connectors and they match factory speaker mounting points:
BavSound makes the installation pretty hard to screw up. I love the instructional inserts:
Right out of the box I could see and feel the quality of the drivers.  Midrange speakers are made of a quality fiberglass weave and the surprisingly heavy tweeters feature a silk dome.
This combination of quality speaker materials coalesces to create sound reproduction that is warm, natural and smooth.
BavSound Stage One Review – How did it sound BEFORE?
Well first off, let's talk about how the factory speakers sound in this base BMW stereo.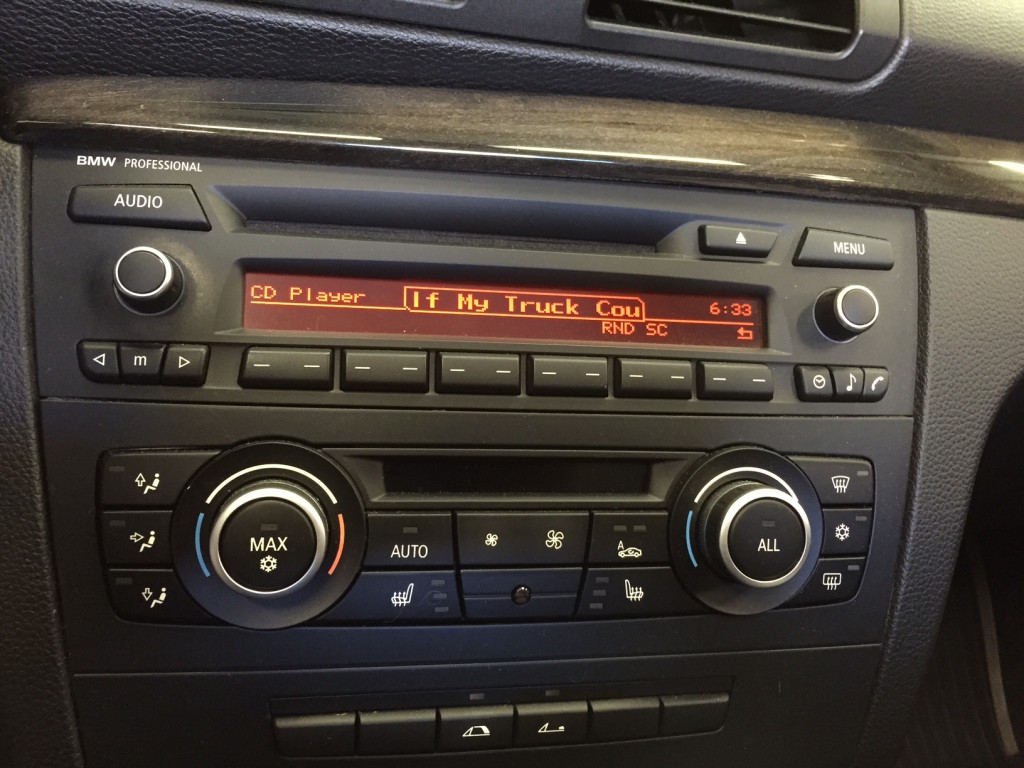 I turned up whatever was in my buddy Scott's CD player and took a listen. Ah yes, there it was. The typical BMW stereo sound:
No top end detail whatsoever – remember the base radio doesn't even have tweeters.
Very muddy mid range – unpleasant is putting it kindly.
The bass – no deep punchy bass here, but certainly plenty of boomy shallow bass coming from those stock under seat subwoofers.
BavSound Stage One Review – How did it sound AFTER?
Pretty freaking amazing is putting it lightly. Scott, hubby John and I were all extremely impressed with the sound quality improvement achieved with such a simple upgrade.  Remember, we just did front speakers. That's it. Two midranges and two tweeters.
I think Scott's exact response was,
"Wow – that's just from new front speakers? (Pause) Wow! That's pretty impressive". 
For reference, Scott is no stranger to high fidelity car audio equipment. In his GMC Sierra he has Morel Hybrid speakers, JL Audio Slash Series amplifiers, Sony GS head unit and JL Audio TW3 subwoofers in a custom enclosure. He's used to pretty good sound quality in his vehicles and he's used to spending a lot of money to achieve that good sound quality.
Immediately we noticed that the boomy bass from the stock subwoofers was now pleasantly balanced out and complimenting the full range of our new speakers.  With our BavSound Stage One Speaker Upgrade, we now had:
Detailed, smooth and clear top end – voices were crisp and detailed, yet silky smooth.
Warm, clear and natural mid range – the muddiness was completely gone.
Additional output – these speakers are very efficient, playing much louder than the original stock speakers, yet they blended beautifully with the existing stock rear speakers and stock subwoofers.
Additionally, these speakers didn't have any hint of harshness to them which is something I'm always concerned about whenever replacing stock speakers without also upgrading the source unit and/or amplifier. The BavSound speakers are incredibly impressive. So much so that I've changed my audio upgrade approach to BMWs.
Ready to upgrade your BMW audio system?
If you own a BMW and are interested in upgrading your audio system – without breaking the bank or tying up your car in the shop for days – you will appreciate the audio transformation achieved with the simple BavSound Stage One Upgrade.
The only other thing I would add to compliment the BavSound Stage One Upgrade is what I call a real subwoofer, something to add true depth and deep, punchy bass. Luckily, the folks over at BavSound agree and have a few Ghost Subwoofer options of their own available for select BMW's.
If you're ready to upgrade your BMW audio system, head over to BavSound.com and find out what it will take to upgrade your BMW audio system.