Coming soon.  I think it's gonna be Kenwood or Pioneer.  I'm not gonna hold my breath for Alpine…
Update: Okay everyone, I've had a few weeks to sell a few Kenwood DNX9990HD's, the DNX6990HD's, the Pioneer AVIC-Z140BH's and the AVIC-X940BT's and I think I can safely say the Kenwood is by far the better buy for a variety of reasons.
Both the DNX9990HD and the DNX6990HD use Garmin for their mapping system, so as far as GPS goes, it's very easy to use, nice bright recognizable icons, it's a crowd pleaser from the navigation standpoint. The split view of the map and source control is a great feature:
The new Kenwood's are speed demons
Let's talk about processing speed. Kenwood's 2012 Navigation offerings are all way quicker than any previous Kenwood Navigation system. As my Kenwood rep stated, "They work the way all previous models should have worked."
One feature I could have done without is the scrolling sources.  A lot of people like the new touch and scroll feature, but I would say the majority of my customers have a hard time using touch and scroll icons.  Regardless of manufacturer, I think it's just a difficult thing for may people to use properly when they're trying to focus on where they're driving.  The good thing about the scroll feature is it does actually work.  Previous versions  of this feature in Kenwood navigation systems were slow and would often freeze mid scroll.
Kenwood's Bluetooth is the best I've encountered
The Bluetooth is fantastic. Both Bluetooth audio capability and plain old hands free calling functions appear to be superior over the competition. Kenwood gives you far more control over tweaking the microphone sound quality so that the recipients of your hands free calls will not be complaining that you sound like you're calling from a tunnel under water. 
With 3 levels of echo cancellation, 3 levels of noise reduction adjustment (-1 to +1) and mic gain adjustment of 1 to 30, the Kenwood gives users much more control over fine tuning hands free sound quality.  Pioneer is limited to the ultra handy "echo cancellation on/off" feature. If that doesn't work, (which it never does) there's always the option to move the mic around until you find the sweet spot.  The fine tuning adjustments available in the Kenwood Bluetooth menu makes hands free calling a very usable and reliable feature for consumers. In general, I have always found that Kenwood's Bluetooth picks up less background and road noise than Pioneer or Alpine.
Oh and voice dialing? Yeah, it actually works. If your phone is compatible (I know the iPhone works), you can go into your bluetooth menu, hit the "Voice" button and say "Call Work". Without ever having to program any voice tags into your phone or the Kenwood, the system appears to then prompt the voice recognition on your phone which, depending on what phone you have, may work well or it may not.
Sound Quality
At our shop we carry the Kenwood Excelon line which is Kenwood's premier product.  The Excelon line features better digital to analog convertors, better processors, better equalization features, better pre-out section and overall better sound quality.  This is no different when it comes to their DNX6990HD or the DNX9990HD.  The DNX9990HD provides users with a superior equalizer featuring numerous sound control functions.
There are a lot of people that won't have the faintest idea how to use any of these features, but if you manage to get this stereo installed by the hands of a seasoned professional who does know what to do with 13 bands of equalization, multiple crossover points that are adjustable up to 24 DB per octave, digital time alignment, phase control and more…..then you might just be able to utilize and take advantage of the very powerful features that the DNX9990HD has. 
When used properly, your sound stage will be right in front of you.  The exaggerated peaks and valleys of various frequencies created by your car's natural acoustics will be smoothed out and corrected to provide your ears with the closest and most natural sound reproduction to that of the musicians original intention.  Your choice of speakers, amplification, sound deadening and other various factors will all contribute to the final result of your audio system, but the equalizer in the DNX9990HD gives you the best chance to control and correct sound reproduction in the harsh audio environment that is the automobile.
Sound too complicated?  Go for the more basic DNX6990HD which will allow you to easily adjust things like bass, midrange, treble, balance and fader.
The display on the Kenwood DNX9990HD isn't too flashy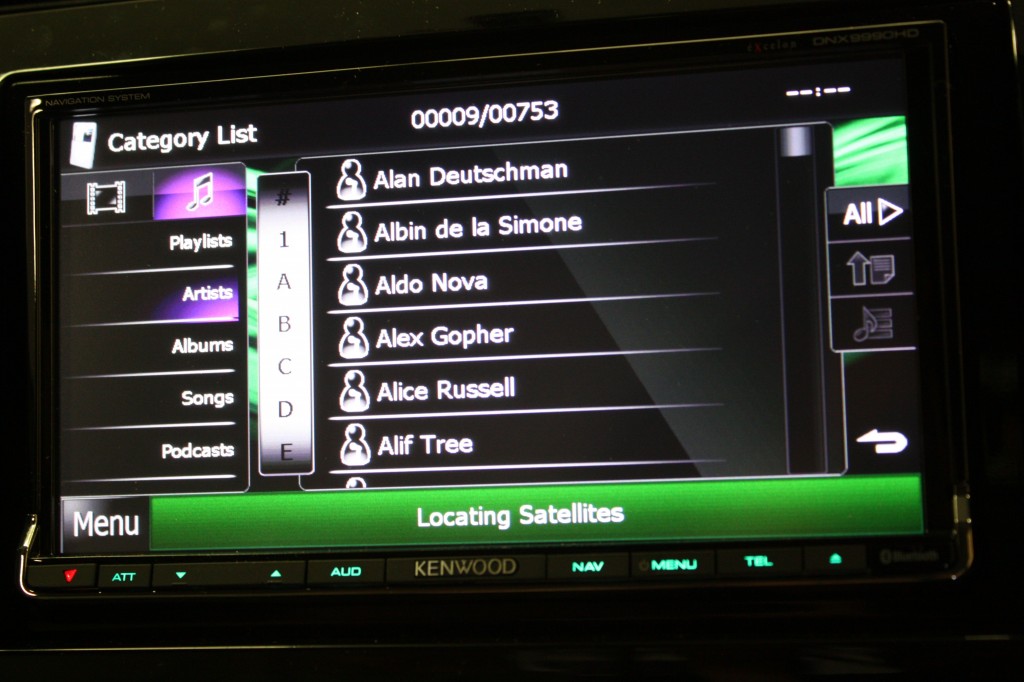 Unlike the typical shiny black trim of Kenwood Excelon head units, there is only a small amount of shiny black trim that exists on the face of the radio.  The few buttons it has feature a nice, flat, black finish.  Unless you have a Toyota Tundra with the Piano Black Finish (conveniently the vehicle used in these photos), the shiny black plastic trim featured on many aftermarket stereo components can look a little flashy compared to the relatively flat black (or gray) finish that many car manufacturers use. 
Lucky for you, the Kenwood DNX 9990HD has a minimal amount of the flashy black finish.  It also features multicolor illumination and a fantastic reverse tilt feature on their motorized screen (check out the video for more details).  Unlike many manufacturers, there is no large lip at the bottom of the screen. When properly installed, the screen looks as flush in the dash as you can get.
So you think it's a little pricy?
Kind of, but not really.  The Kenwood DNX9990HD has a minimum advertised price of $1399.95 which, for a lot of people, is considerably higher than many of the other options on the market.  The cool thing about Kenwood and Garmin is they team up every year and offer rebates to entice you into buying their superior product.  Right now there is a $100 mail in rebate.
But here's where the additional investment really pays off.  If you drive a newer automobile like a Ford or Lincoln equipped with features like Sync, Satellite Radio and steering wheel controls, you are normally looking at an additional $300+ in parts (and an ugly separate display) in order to retain these features.  This year, Kenwood and iDatalink have teamed up to create the iDatalink Maestro.
The iDatalnk Maestro eliminates the need for additional boxes, interfaces and ugly displays by seamlessly integrating factory features onto the screen of your new Kenwood DNX9990HD (or any other new Kenwood Navigation).  The iDatalink Maestro will be shipping soon and selling at an estimated retail price of around $160. They are also working on integration for Chrysler U-Connect and GM's Onstar.
This interface allows you to save money on your installation parts and retain some of the cool features your car may already be equipped with.
In Conclusion
So to wrap up in a nutshell, with easy to read bullet points for my fellow readers with ADHD,  here is why I believe the Kenwood DNX9990HD is the best choice currently on the market for an aftermarket double din navigation system:
Garmin navigation rocks
Split view navigation and source control is convenient
Processing speed is pretty good, doesn't get as bogged down as most advanced navigation systems do
iPod control is easier to use than other options on market
iDatalink Maestro interface will allow consumers to easily, and cost effectively, retain OEM features like steering wheel controls, Satellite Radio, Sync, U-Connect and Onstar (coming soon)
Awesome Equalizer section with excellent sound quality and precision control
Superior Bluetooth sound quality and function
Appealing 7″ display with reverse tilt option and flat black finish on buttons
There you have it my friends.  The DNX9990HD in all its glory.  After years of empty promises, Kenwood has finally delivered a double din that not only works, it works well!