The Alpine X409-WRA-JL may seem like a pricey head unit solution for Wrangler JL owners at first glance. However, once you give it chance and get to know it, it's not hard to see the value in this all-inclusive top of the line head unit upgrade.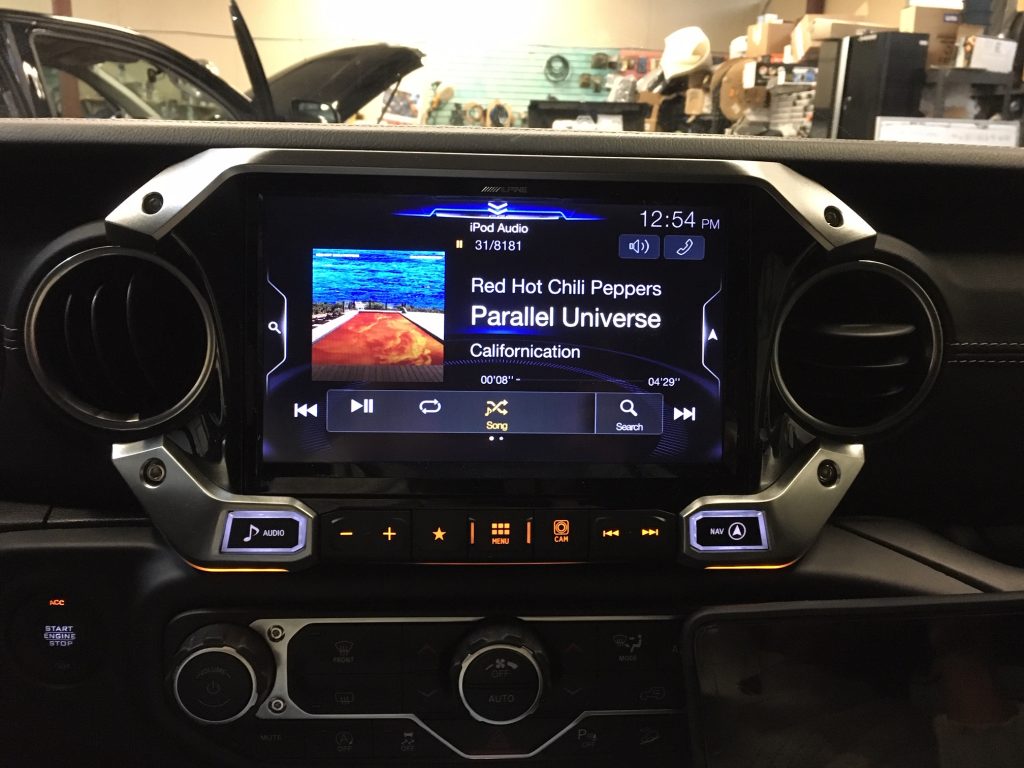 Let's dive into this Alpine X409-WRA-JL review, shall we? As many of you probably already know, my husband John and I own a 2019 Wrangler MOAB Moijito! Our audio upgrade adventure with this vehicle started sometime in January 2019 and it has been evolving ever since. We originally started out with our beloved PAC Audio AP4-CH41R2 which we used with our stock 8.4" touch screen radio. We installed that along with the JL Audio Twk-88, DRC-205 control knob, our PDXV9 high powered 5 channel amp, two JL Audio Stealthboxes and two sets of Morel Hybrid 402's. As time progressed and newer parts became available, we swapped out those 4" components to 6.5" using the Metra JP-1014 adapters and later we did the same thing in the rear with the SSV Works sound bar adapters.
Our Jeep Wrangler JL sounded fantastic at this point. I recall one persnickety client, a self-described audiophile with a very discerning ear. He sat in our vehicle to take a listen using his Astell and Kern high end portable music player and responded "It's not right that a car stereo can sound this good". In the past year we have had numerous clients come through our shop, take a listen and order up the same type of audio upgrade package for their Jeep Wrangler JL. Every one of them has been extremely satisfied with the end result.
This head unit though? The X409-WRA-JL takes the sound quality of our system to a completely different level.
Alpine X409-WRA-JL Review – Sound quality
Prior to setting up the EQ and time alignment, the first thing we noticed was how the sound had been transformed. It became smooth, silky and easy on the ears. Not only that, multiple new layers of detail and nuance emerged. Any stray hints of harshness were completely eliminated with this one single upgrade. The main components of the X409-WRA-JL are made in Japan so I am not at all surprised about the superior sound quality. I have always found Alpine's products that are made in Japan to be superb.
But it costs so much…
Keep in mind, with a head unit like this, you eliminate the need for any type of DSP (assuming you are doing a basic 5 channel set up – front, rear and subwoofer). The X409-WRA-JL features a 4-volt RCA pre-amp output, a 9 band parametric EQ, digital time alignment, built in crossovers and various EQ presets. In Wranglers we usually set up multiple presets: one for the driver, another for driver/passenger and top up vs top down, etc.
When you consider the cost of a quality DSP processor such as the JL Audio Twk-88 and the PAC Audio AP4-CH41R2, the steep price tag of the X409-WRA-JL doesn't seem quite as steep since it accomplishes the same functions as those two products and then some.
For example, it's pretty hard to beat the 9" water resistant display featuring high end finishes with a mix of gloss black, satin titanium and matte black buttons. It looks great on sources like Apple CarPlay, Android Auto and HDMI input.
Off-road maps with built-in GPS
The X409-WRA-JL is feature packed. Not only does it have Apple CarPlay and Android Auto, it also features sat based navigation and includes an off road mode. This is perfect for those of us who like to venture off the grid. My husband John especially appreciates the center cluster display with turn by turn directions.
You are not losing any features.
Do not forget, the head unit in your Wrangler JL, whether it's the 5", 7" or 8.4", is part of the computer network in the car. Things like your blind spot warning chimes, reverse park sensors, reverse camera, HVAC display, vehicle settings, steering wheel controls, etc. are all functioning through your stock stereo
If you remove that stock stereo, you need to have parts in place that are designed to retain that chain of information flowing through your aftermarket radio. Although iDatalink is currently working on a solution, there is no ETA or release date. For the time being, the Alpine X409-WRA-JL is the only aftermarket head unit solution for the Wrangler JL that can truly retain everything including the OEM volume knob equipped with stock 7″ and 8.4″ models.
The picture quality on the reverse camera retention could be better, but at least it's there. That is my real only complaint on this head unit. It appears to be using a converter box and it reminds me of when you convert HDMI to analog, there is an obvious degradation in picture quality. Yet, we can still clearly see what is behind us. As far as we are concerned, the sound quality improvement this head unit has provided, far exceeds any drawbacks on the camera picture quality. Then again, this is what we do for a living, this could be a deal breaker for some. I'm not sure what solution iDatalink will release or if their interface will have any better picture quality. Only time will tell.
One audio USB port – wired Apple CarPlay and Android Auto
This head unit does not have wireless Apple CarPlay or Android Auto. It might surprise you to learn that it features a wired connection only. After doing some research for another JL Wrangler client, I realized at the moment, no aftermarket head unit manufacturer appears to offer a shallow mount, mechless, Wireless Apple CarPlay/Android Auto head unit that is iDatalink Maestro compatible. My guess is the WiFi module to enable this feature adds too much bulk to the chassis and that is probably why it was not a feature of the X409-WRA-JL. There simply is no depth in the Wrangler JL dash to support this option.
Although our Wrangler JL's come with USB's galore, keep in mind the factory USB's in your center console and on the back of your center console are not compatible with the Alpine X409-WRA-JL. They will still function for charging only. This Alpine restyle head unit includes a replacement USB/HDMI hub which provides a USB connection for Apple CarPlay and Android Auto, AUX input, HDMI input and an extra USB port just for charging.
So can I install this thing myself?
This thing takes some time to install. If you haven't watched it already, I highly encourage you to check out Quadratec's install video to get an idea of what is involved.
Not only is this video super helpful if you want to attempt to do the install yourself, but it's also helpful for anyone who plans on bringing their Wrangler JL to an Alpine dealer for professional installation. You'll have a better understanding of why they are charging you what they're charging for installation. We work on these vehicles every day and feel 5-6 hours is a fair install time. There is just a lot that needs to be disassembled and accessed to do this upgrade, but it's well worth it.
Feature packed – well worth the upgrade cost
As you can probably tell by this Alpine X409-WRA-JL review, overall, we are super happy with our Alpine X409-WRA-JL. I have been very critical in the past over Alpine's X009-WRA, X109-WRA and I felt they finally got it right with the i209 and X209 series. Thankfully Alpine has only built on that success with this next generation of X409 series. This head unit really has it all:
Sat based GPS navigation including an off-road mode
Wired Apple CarPlay and Android Auto
Super clean 4-Volt front, rear and subwoofer pre-amp output
9 band parametric EQ
Built-in crossovers
Digital time alignment
SiriusXM capable (need SXV300 tuner)
Retain steering wheel controls
Retain HVAC display
Retain OEM reverse camera
Retain access to vehicle settings
Retain warning chimes for ADAS
OEM quality HDMI input and USB Hub
Is there room for improvement? Of course. It would be nice to see a higher quality adapter to retain the OEM camera and it would be cool if we could change the illumination on the display from Amber to anything else (you can't). However, for us, the sound quality improvement alone far outweighs any minor critiques we have. If you own a Wrangler JL and are truly looking to install a high-fidelity system, consider the X409-WRA-JL. It really is the best sounding head unit/pre-amp/DSP solution we have tried thus far in our own Wrangler JL.