This week in the shop – 2016 Porsche Macan Apple CarPlay installation.
Recently a client reached out to us about a problematic radio in his Porsche Macan. He was experiencing issues with the factory PCM Bose radio. It was pretty much shot – continuously rebooting and shutting down. After being quoted an astronomical price from the dealer, he reached out to us to explore his options. We could have sent the PCM radio out to be repaired. However, he would still be stuck with dated technology. In this case the client preferred the option of fitting his Porsche Macan with a new Apple CarPlay/Android Auto radio.
The radio in this vehicle is part of the whole operating system in the car. Even basic functions like warning chimes are on this data circuit. If you remove the radio, it's like removing a computer in a network of computers. When the flow of information is broken features are often be lost. For that reason it's important to use parts that can retain the flow of CAN information as well as various features on the MOST network.
Very specific parts required
In order to install Apple CarPlay in this Porsche Macan, we used the Metra 95-9616B. This installation kit included everything we needed to replace the radio in 2015-2016 Porsche Macan equipped with:
Bose amplifier
Park Sensors
Reverse Camera
Steering wheel controls
It is designed to retain the flow of data and various features that function through the factory radio. Yet, there is one component in this kit we don't recommend using: the USB retention adapter.
Apple CarPlay and Android Auto requires a massive data transfer between the radio and your phone. We have found in various installations that many OEM USB ports are not capable of high speed data transfer. Sometimes they get hung up transferring that data. When that happens Apple CarPlay and Android Auto can flake out. That is why we prefer to route a new high speed USB to the factory USB location.
In addition to the Metra 95-9606B installation kit, we also used:
SAT1 to connect to and re-use the factory SiriusXM antenna
What is lost – what is retained
Access to vehicle settings
Once the radio is replaced, you do lose access to any vehicle information that was previously accessible through the factory radio. In this particular installation, that didn't really matter to the client because they had already lost that access due to a faulty radio.
Radio information in multifunction displayer
Some European vehicles have what is called a multifunction display which shows up in the instrument cluster. This MFD can display stereo information such as what source you are listening to. If your Macan is equipped with this feature and you install an aftermarket Apple CarPlay stereo, you will no longer see any type of stereo information displayed in this menu.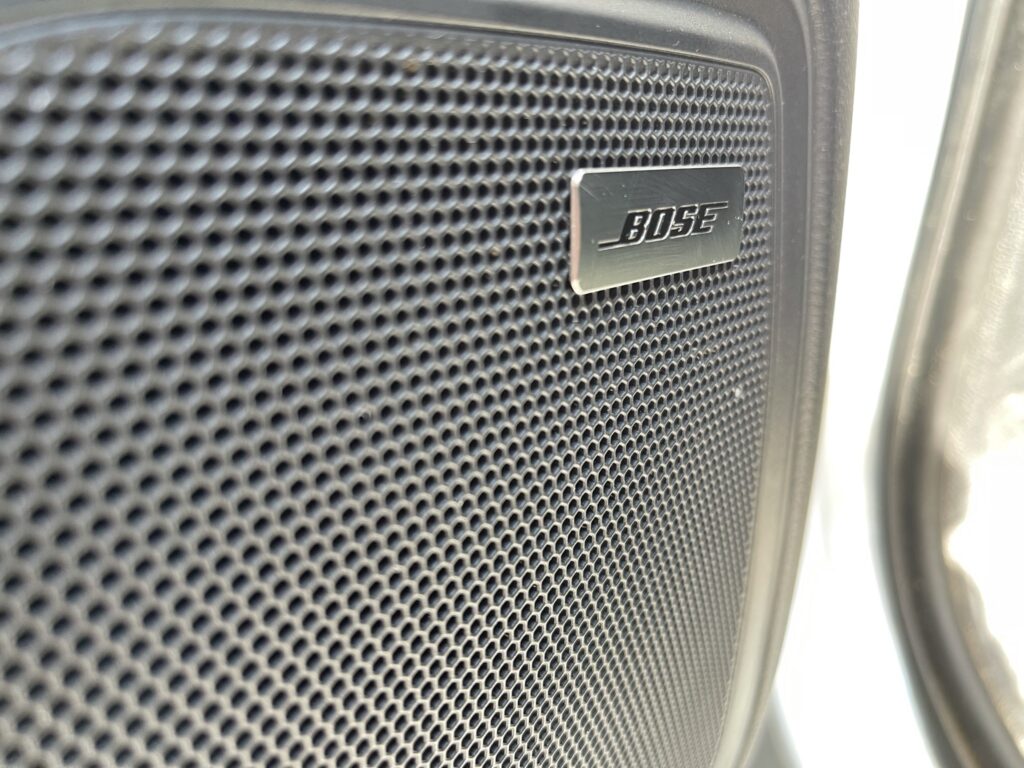 Fader control
The stock Bose amplifier is digital. When that digital signal is retained it is converted to 2-channel analog. This means the aftermarket radio can support balance – left to right audio adjustment, but you will lose fader control – front to rear. All the speakers will play and the Bose amp and speakers are retained. You just lose the ability to fade between the front and rear speakers through the aftermarket head unit.
Reverse Camera
We were able to retain the stock reverse camera as well as the audio and visual from the park sensors. Both features are displayed through the aftermarket stereo reverse camera input. If an object is detected on the front sensors, the display will automatically switch over to the sensor display.
Park sensors
If you are backing up and an object is detected on the rear sensors, you can switch the display on the radio from the reverse camera image to the park sensor display. Simply press and hold the scrolling steering wheel control button on the left of the steering wheel.
Fit and Finish
If we had laser etcher at the shop, I would have loved to have put the Porsche logo on the top panel of the kit. It seems like weird dead space. I imagine that would have added a significant cost for the manufacturer to an already quite costly installation kit. The matte black finish matches quite nicely. I'm glad this client chose the iLX-W650 out of the various options we provided. It has a very minimalistic, sleek look to it which closely compliments the interior vehicle esthetics.
Are you in the market to fit your Porsche Macan with Apple CarPlay and Android Auto? Contact our shop today to learn more.