The Pioneer double din AVH-X2700BS is by far the best value double din touch screen head unit I've seen so far for 2015
In terms of double din touch screen head units, it's quite common for manufacturers to try and pack as many possible features and attractive logos on the box in an attempt to entice as many customers as possible.  Marketing gurus think "Who cares how well the feature works?  Just get the label on the product!".
In the case of the Pioneer double din AVH-X2700BS, the long list of features and functions are not only impressive, they're actually quite useful and functional!  What a refreshing surprise.
I can't tell you how many times I've been disappointed by a label or logo on a product box or advertisement only to find out when the product arrives you need a very specific application, device and accessory to make it work and even when you do all that, it works miserably. Thankfully, you can forget all that with the Pioneer double din AVH-X2700BS.
Check out this long list of features and functions that actually work QUITE well:
6.1″ Resistive Touch Screen
Bluetooth audio streaming with Pandora control for iPhone and Android
Bluetooth handsfree has clear call quality, phone book access, call history, number pad and includes Voice Activation button that works with Siri and Google Voice on select Android devices (Note: This is not a feature Pioneer advertises or guarantees because it does not work with all Android devices and they are unable to test and verify compatibility on all Android devices.  You may have to disable S Voice on certain Samsung Devices – try it on a store display model with you're own phone if this is a must have feature) 
Standard steering wheel control input – requires Metra ASWC-1 or PAC Audio SWI-CP5
iDatalink Maestro ready (advanced steering wheel control integration for select vehicles – see idatalink.maestro.com for details and vehicle compatibility)
4 Volt Preouts for Front, Rear and Subwoofer
Built in crossovers for Front, Rear (HPF) and Subwoofer (LPF) with selectable frequency (50 – 200 Hz) and slope adjustment (- 6 dB to -24 dB).
Multicolor display with advanced customization options (multiple themes to choose from, upload your own background image or keep it simple and clean with no background at all – 5 display colors, 112 key colors, 13 background/splash images to choose from)
App Radio One integration – this is cool – offers easy integration of iPhone or Android via USB connection.  Allows access to Maps, Music, Weather and Notifications – Oh, and you don't need any special adapters!  Just a free software update and a free app.
Reverse camera input
Rear A/V in
Rear USB port
App Radio One
Okay – the name sucks and Pioneer has gotta know it's hella confusing.  First we had the stereo model called App Radio (1st edition) and it required the App Radio App.  Then there was the subsequent App Radio 2 and then the App Radio 3 and now there's an App Radio 4.
After pissing everyone off with compatibility issues and inherent quirkiness on their previous App Radio models and modes, Pioneer now has a whole new line of double din DVD stereos that feature a NEW App Mode and it requires the use of two apps and a free software update:
The App Radio Mode app
App Radio Live app
However, it's really nothing like the old App Radio Mode.  Once you get past the name you'll find It's responsive, accurate and aesthetically pleasing.  It has a totally different layout and user interface than App Radio Mode.  It's what App Radio Mode should have been.  So they're calling this new app feature App Radio One. Confused yet?
The "One" is referring to the simple connection.  One cable.  No ugly adapters and HDMI connections.  iPhone users simply connect their USB to 30 pin or USB to lightning to the USB input on the stereo (Even though Pioneer doesn't list the iPhone 4 as compatible, I did try and test it and it works).  Select Android users can connect using a USB to micro cable like the CD-MU200 – please check the compatibility chart for your phone and software.
What App Radio One Does Do
App Radio One allows you a really clean way to access Media, Maps, Events and Calendar all from one screen. If we tap the navigation icon on upper left quadrant from the App Radio Live home screen, we will be shown our current position with a space on top enter an address or point of interest.  Let's see how it fares trying to find me the Cheesecake Factory (not really a fan of the food, but I am a fan of Big Bang Theory).
Initially it tried to search for Cheesecake road until I tapped the POI icon on the bottom right of the screen.  After selecting POI, it brought up a list of restaurants nearby with *GASP* Yelp ratings. How COOL is that?!
Interestingly enough, when you select a restaurant you do see the option to "Read Reviews", however it doesn't appear to work.  It launches the browser on screen and you see the request from Yelp recommending you use their app, but nothing works when you tap anywhere on the browser screen.  Maybe eventually?  Not that you should really be reading Yelp reviews and driving at the same time ANYHOW, but that's besides the point.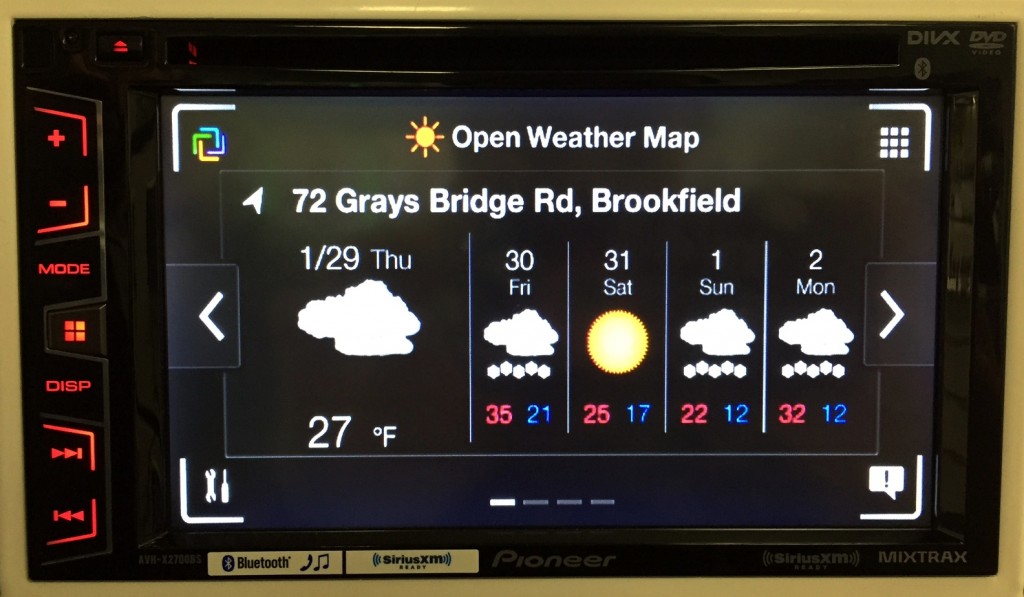 Here in Connecticut, I never know when we're going to get hit with a freak snow storm or arctic blast so I think it's pretty handy that I can pull up the latest forecast.  Not that the forecast is ever that accurate anyways.  I took this picture Thursday.  Yeah, it didn't even get CLOSE to 25 on Saturday.
While driving around in single digit weather, I like to crank up the heat and crank up the tunes and forget how frighteningly cold it really is outside.  I try to let my mind escape into the music.
Not sure what you're in the mood for?  Do a Genre search.  Have something particular in mind?  Try an Artist search.
Once you've put on some soul soothing Adele, you can enjoy the album art displayed by the Pioneer double din AVH-X2700BS.
Can't remember if you have an important meeting or concert to attend?  Take a quick peek at the events tab to see what's coming up.
What App Radio One Does Not Do
App Radio One will NOT do video from your phone.  
The lack of HDMI means no streaming YouTube videos from your phone (do you really need that feature anyways?).
App Radio One will NOT provide turn by turn voice guidance.
Hey, they can't give it all away for free.  Pioneer may add this feature at a later date at an additional cost.  My guess is they will charge a monthly fee for a premium version of the app.
Did I mention I love the customizable display?
This might seem trivial to some, but for me, this is one of the things that makes this stereo a great option for everyone. You can customize the look to your own taste.
There are multiple background images to select from and you can even upload your own image if desired – Or leave it completely blank with a plain, black background.
There are 112 key colors to choose from and 5 background illumination options to choose from. You can keep the look plain jane with no background and white lighting like you see above.
Or you can add some color and zest to your life with blinky backgrounds and vibrant navigation themes.
What doesn't it do?
There are a few reasons to step up from this Pioneer double din model.  If you want voice recognition and access to multiple apps (think Siri and you own an iPhone 5 & up) then you should consider the Apple CarPlay compatible App Radio 4 or Alpine iLX-007.  These models will allow you to use Siri to tell the stereo what music to play: "Hey Siri, play artist Death Cab for Cutie". They also allow access to other CarPlay compatible apps – scroll to bottom of this link to see latest apps.
If you want Android Auto integration you'll want to check out the new 2015 models that feature Android Auto integration from Pioneer, Parrot or Kenwood.  These models integrate with Google Voice for more than just handsfree functions: "Hey Google, play artist Death Cab for Cutie using Spotify".
So if you're looking for more advanced cell phone integration like more voice control and the ability to have your text messages read to you and allow you to dictate a response back – then you want to save up a few more bucks and go for an Apple CarPlay or Android Auto compatible model.
For those of you interested in using your cell phone for GPS you will also have to consider how and where you will be using this feature.  When you're relying on your cell phone, you're relying on good cell service and data usage.  If you travel into areas with spotty cell service or no cell service and you need consistently reliable GPS, then you may want to consider a double din with built in GPS.
If you are an audiophile and appreciate subtle nuances, details, depth, clarity and you can differentiate between the quality of one head unit's digital to analog convertor and another – you will want to step up to something like the App Radio 4 or Sony's XAV712HD.  You won't get the same App Radio One integration with either model, but you will get great sound quality and excellent audio control tools.
At the end of the day, unless you design and build your own double din stereo, it's unlikely you'll be able to find one that has EVERY feature you're looking for.  However, chances are pretty good the Pioneer double din AVH-X2700BS will have most of the features you're after.