Best Double Din Touch Screen Car Stereo 2014 – Hands on review by Car Stereo Chick
Estimated read time: 12 minutes 21 seconds.  Want to read later?
Update 5/10/15 – Be sure to check out my post on the Pioneer AVH-X4100NEX.  This model is new for 2015 and is both Apple CarPlay and Android Auto compatible.
Selecting the best touch screen car stereo can be an overwhelming and confusing process.  I'm here to help break it down for you and make your selection easier.
There are subtle differences in features between these touch screen car stereo models that make one option a better choice over another depending on your needs and individual taste.
Each touch screen car stereo reviewed here comes with the expected standard features such as:
USB
Bluetooth
Single CD/DVD
AM/FM tuner
Reverse camera input
Rear aux in
Unbiased information to help you choose
My aim with this post is to provide you with the same knowledge and guidance that I provide to customers in my own shop.  My job is to merely present you with the features, benefits, pros and cons of each touch screen car stereo in unbiased manner.  I do this so that you, the individual consumer, can decide which model is best for your own unique needs.
In our shop, we carry three touch screen car stereo models from Pioneer, three models from Kenwood and one model from Sony.  In case you're wondering why I don't carry Alpine double din touch screen car stereos, it's because they tend to be lacking in features and value in this particular niche.  For example, the Alpine touch screen car stereo model IVE-W535HD is not even SiriusXM Ready – yet for about the same price you can buy an Alpine touch screen car stereo with navigation and SiriusXM capability.
So who has the best double din touch screen car stereo?
It truly depends on what features are most important to you.  Read on to find the best touch screen car stereo for you.
Entry level touch screen car stereo models from Pioneer and Kenwood
I recently reviewed our two entry level double din head units from Kenwood and Pioneer, the DDX371 and the AVH-X2600BT in a more detailed review found here. If you're looking to stay in the entry level price range, you'll want to read this in depth post detailing the pros and cons of each unit.  In this more elaborate double din head unit post, I'll briefly summarize the pros and cons of these two entry level double din head units.
Pioneer's entry level double din touch head unit for 2014 is the AVH-X2600BT.
Pioneer AVH-X2600BT Pros
Excellent Bluetooth Handsfree call sound quality with voice dial feature
Mutlicolor illumination, various background illumination/graphic choices
Esthetically attractive home menu and user interface (it's pretty)
Relatively intuitive and easy to use
3 Preouts for Front, Rear and Sub (2 volt)
App Radio Mode Feature (For iPhone 4/4s users requires CD-IUS201s, for iPhone 5 users requires CD-IV203, an Apple Lightning to VGA Adapter)
Mirrorlink Capable (CD-MU200 required and Mirrorlink phone required – According to Pioneer, this allows you to access music and phone from your stereo)
Pioneer AVH-X2600BT Cons
Only 2 Volt Preout (not good for sound quality if you're adding amplifiers)
Requires tricky parking brake bypass or additional TR7 interface
No Volume Knob – Volume rocker instead, however this double din is Steering Wheel Control ready.
Does not come with Double Din Sleeve and Trim ring, designed for iso mount only – if your car does not have iso mount kit option you will need additional part ADT-VA133 (think VW Jetta 2002 – 2005).
NO SiriusXM compatibility – This unit is not Sat Ready and I know that can be a deal breaker for some, but you can stream Bluetooth Audio with your phone using Pandora or other music apps that sound WAY better anyways – SiriusXM is majorly compressed audio, like 32 kbps (yuck).  That compression rate is fine for talk/entertainment, bad for music.
Introducing Kenwood's entry level double din head unit, the DDX371.
Kenwood DDX371 Pros
Volume Knob – Many consumers find this much easier to use even if their car is equipped with Steering Wheel Controls (which by the way both radios support with additional SWC interface)
4 Volt Preouts for Front, Rear and Sub (Provides better sound quality when using external amplifiers connected through RCA)
Easy Parking Brake Bypass
Comes with mounting sleeve and trim ring if needed (Which can save some car owners $35)
Multicolor illumination
SiriusXM Ready! (Requires SXV200 tuner)
Kenwood DDX371 Cons
Poor Bluetooth Sound quality for handsfree calling – Kenwood has not updated the Bluetooth processor or mic in this unit – it's the same as last years model and if you're on the phone a lot, the Pioneer definitely has better sound quality for handsfree calling.  You may get complaints like "you sound like you're under water", "are you in a tunnel or something?" or plain old and pissed off "I can't hear/understand you, call me later" Click.  If you're using the Bluetooth mainly to stream your music, this may not be a concern.
Slower searching on iPod when connected to USB compared to the Pioneer – not by a lot, maybe 2-3 seconds, but for many consumers every second counts and when I show them the difference on our display, that makes their decision. If you're the type of consumer who will just leave their iPod on random anyways and skip tracks, that won't really effect you – same if you're using Bluetooth audio as you'll mainly be controlling/selecting music from your phone and just streaming it wirelessly to the stereo.
Extremely limited App Mode Feature – designed only for iPhone 4/4s users, mainly for Garmin app priced at $49.99, requires KCA-ip202 accessory – limited music search and control if operating on anything newer than IOS 5.1.1
When we look at the next model up in both lines we come to the Pioneer AVH-X5600BHS and the Kenwood DDX771.
Mid level touch screen car stereo models from Pioneer and Kenwood
Pioneer offers two different 7″ double din touch screen car stereo models.  The AVH-X5600BHS and the AVH-4000NEX.
Meet the first 7″ touch screen car stereo in Pioneer's line up, the AVH-X5600BHS.
AVH-X5600BHS – The 7" Pioneer double din touch screen adds a few benefits over the 6.1" option such as:
SiriusXM capability
Built in HD Radio
4 Volt Preouts
Motorized screen with optional tilt adjustments
Kenwood's 7″ double din touch screen car stereo is the DDX771.
Kenwood's DDX771 adds little over the DDX371 other than it's 7" motorized touch screen with tilt and angle adjustments.
Curiously, both the DDX371 and DDX771 display the Waze icon on their website, however I could not find any detailed information in the owners manuals or supplemental documentation provided by Kenwood on how to utilize this app. I inquired about this with my Kenwood rep and was slightly disappointed with what I found out.  Their answer was this, "Technically you can mirror Waze, or any video content from an iPhone 4/4s, by using the Kenwood video iPod cable".  To me, that doesn't really warrant displaying the icon as you still have to control and operate everything from the phone, not the stereo itself.  To get into any sort of real app mode with Kenwood, you need to step up to a model with an HDMI input such as the DDX8901 from their Excelon series.
Looking for app integration with Kenwood?  Check out the DDX8901.
The DDX8901 is part of Kenwood's Excelon series which features 2 year warranty, better sound quality, and more equalization control. Within the DDX8901 there is an app mode for both iPhone and for Android and like Pioneer there is a long list of compatible phones, requirements and limitations which can be viewed in this PDF here:
This is kind of like the missing manual for how to mirror your phone using a Kenwood double din touch screen.

Like most touch screen car stereos featuring app mode for iPhone, you will need a regular USB to lightning cable, an HDMI cable and Apple's lightning to digital A/V adapter.  Kenwood's app mode for iPhone is somewhat disappointing.  Even though the DDX8901 features touch screen control over the Waze app, it does not integrate with the Apple keyboard, meaning you still have to input address information from your phone. Also, Waze is the only compatible app for iPhone 5 users.
When it comes to mirroring and controlling Android devices, it's a different story. It's actually not too difficult to set up. You'll need an HDMI to MHL cable (Kenwood has one, the KCA-MH100) and depending on what type of phone you have, you may need one of those 5 to 11 pin tip adapters (I needed that for my Samsung Galaxy S4). You'll also need Kenwood's app installed on your phone, the Kenwood Smartphone Control App.
With the few Samsung phones I've tried this with, I've found no matter what I do, the home screen is always in the upright position, even if I turn the phone horizontally. Once I open up an app, it switches to the proper orientation. The other really quirky thing to note here is the control. Yes, it's two way control and mirroring, but it's not very responsive or accurate. On the Kenwood touch screen you see a little mouse cursor. And it seems no matter how many times I calibrate the screen, I can never get that cursor to respond and actually select where I'm trying to select.
I've showed this feature to a few customers who were eager to see Kenwood's mirroring for their Samsung phones and they were sorely disappointed. The interface leaves a lot to be desired. If it's difficult to control standing around in a stationary showroom, imagine how difficult it would be to use while driving.
I wish I could say Pioneer does mirroring and app interfacing better, but in my experience, (for Android users anyways) it's still kind of an uphill battle. Another thing to note, the screen quality on the DDX8901 does not appear to be as sharp and vibrant as the DDX371 or DDX771. I think this may have to do with the two way control and mirroring capability.
There are some true benefits of the DDX8901 over the DDX771 which include:
Excelon sound quality and equalizer with advanced audio control
5 Volt preouts
Better handsfree sound quality with noise cancellation and microphone adjustments
Top of the line double din touch screen car stereos from Pioneer and Sony
For high end touch screen car stereos, we will discuss the AVH-4000NEX from Pioneer and the XAV-712HD from Sony.
Pioneer's other 7″ double din touch screen car stereo features Apple CarPlay.
When we look at Pioneer's top of the line double din touch screen non navigation car stereo, we come to the AVH-4000NEX. I feel this model is definitely the most promising for consumers that want phone mirroring and integration. Again, depending on what phone you have and what software version, there are limitations to what apps are compatible and truly functional.
Limitations aside, there are a lot of additional features with the AVH-4000NEX compared to the AVH-5600BHS.
HDMI input which allows plain old phone mirroring (no control) and also AppRadio Mode for Android – requires CD-AH200 adapter (also works with iPhone 4 using CD-IU201S and iPhone 5 using CD-IH202, Apple Lightning to USB and Apple Digital A/V Adapter)
Compatible with Apple's CarPlay for iPhone 5 (via a free software update and just your standard USB to lightning cable).
Pioneer's Supertuner for FM/AM
13 band EQ with digital sound retriever circuit and digital time alignment
SD Card slot
2 USB ports
A note about mirroring. I've mentioned this in other posts, but I'm going to assume readers of this post haven't read every one of my posts. Mirrorlink, App Radio Mode, Car Play and plain old mirroring your iPhone are actually 4 different things.
Mirrorlink is a very iffy technology. I've talked to Pioneer tech support about this and the problem is that it's not a consistent or truly standardized technology. Mirrorlink can go ahead and certify a phone to be Mirrorlink compatible, the phone manufacturer can go ahead and slap the Mirrorlink logo on their product and at the last minute the phone manufacturer can decide to produce the phone without the technology actually built in. If it does get produced with Mirrorlink technology, there's no guarantee firmware updates by the phone manufacturer won't make the feature obsolete.
As a result, Pioneer made their own app, the AppRadio App which is designed to integrate specific apps to Pioneer stereos. Please note not every app is compatible with every phone. You can see on Pioneer's website, which apps are available for iPhone 4, iPhone 5 or Android devices. However, in some cases only 5 or 6 apps may actually be compatible with your specific Android device.
It's up to developers to write the software, not Pioneer. As a result, there have been other apps developed to allow full connectivity and full mirroring. A popular one is called App Radio Unchained, but it does require users to root their phones and install a few other apps and I'd say my average every day customer isn't comfortable doing that and are not that tech savvy. If you are, you can read about the process in this great write up from CNET.  For Android users that don't want to root their phone and install unapproved developer software, stick with Pioneer's App Radio App.
Pioneer is doing a great job at trying to keep on top of phones, software and limitations and they have a great detailed chart on their website that tells you which phones are compatible with AppRadio Mode and what version software they will work with.  So what if you have the right phone, right software installed and correct settings checked off? Well there's one more thing to note about AppRadio Mode – it's not perfect.
In a recent install with a Samsung Note 3 and Samsung Galaxy S4 we had a lot of glitches.  The picture was cutting in and out on certain apps, but working fine on others. It's not uncommon to have to do things like unplug the phone and plug it back in if it's not working properly.  You may even have to reset the app, reset the stereo or reset the phone occasionally.
This is a new frontier for car stereo and it's going to have a lot of hiccups and bumps along the way. Consumers need to realize it's not perfect. I've also found there's very little obvious information and support from manufacturers. This is unfortunate because consumers like to make their decisions and assumptions based on recognizable app logos and brief product descriptions.  Unfortunately, those don't tell you the whole story and in many cases neither does the owner's manual.
For some consumers, the ideal solution may be a more simplified set up.  For a simpler way to integrate your cell phone apps to your car stereo, consider investing in a quality cell phone holder (check out Pro Clip USA) and vehicle specific bracket from Panavise.
All of these touch screen car stereos have bluetooth audio streaming capability. So if you're listening to bluetooth audio as your source and have the navigation going on your phone, you will hear the navigation prompts from your phone over the stereo. If you need a visual map, you can glance at your phone in its nice holder to the right of your stereo.
This is probably the safest and most reliable way to utilize navigation apps from your phone through your stereo (short of Pioneer's Apple CarPlay interface which is only compatible with iPhone 5 and up).  With cell phone screen size continually increasing and screen quality continually improving, it's not like your car stereo's touch screen is THAT much bigger and that much easier to see than your phone's touch screen.
In conclusion, if sound quality and ease of use is your main concern, consider Sony's XAV712HD.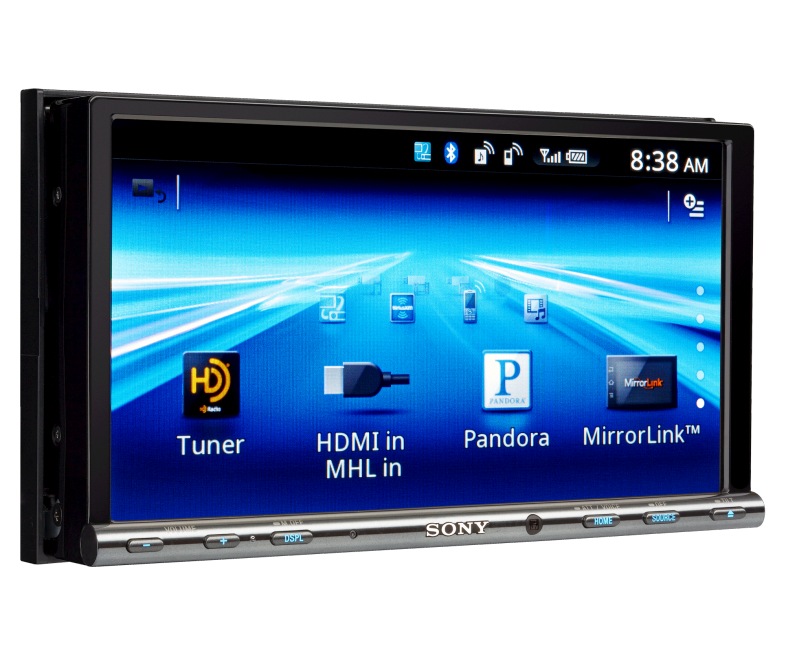 I have last year's version of this in our Jeep and it is a great sounding unit. This is actually the only Sony head unit I carry and it's right up there next to Kenwood Excelon in terms of sound quality (maybe even better). It comes with a 3 year warranty and is part of Sony's premier line, kind of like their old Mobile ES series products (better sound quality). In addition to an awesome digital to analog processor, it features:
5 volt preouts
Digital time alignment and 7 band EQ
Great Sony picture quality
Two USB ports
HDMI input (so you could technically display your phone with some adapters, but no on screen control).
Sony pushes their Mirrorlink feature with this model, but again, unless you truly have a compatible phone or feel like installing a hacked developer app, forget it. Samsung users have to use the Drivelink App which crashes before it ever even loads. One drawback to note with this Sony double din stereo is the large lip on the front of the unit.  Depending on what kind of car and what kind of dash kit is available, this can usually be recessed nicely, but it all depends on the application.
.
Aside from sound quality, features and ease of use – looks should be considered in your double din car stereo purchase as well.
Pioneer units do not come with a mounting sleeve – as long as you can iso mount using the dash kit, you're good and it will look nice and flush.  Depending on your install skills, if you go motorized 7" with any model, there may be some tweaking and shaving necessary to allow the motorized screen to open and close properly. Kenwood double dins always come with a nice mounting sleeve and trim ring and the Sony does as well.
So who has the best touch screen car stereo for 2014?
As you can see, there are a lot of different double din touch screen head units out there and they all have subtle differences between them.  I hope this post has helped explain the differences in features, pros and cons on each model allowing you to choose the best double din head unit for your needs. Thanks for reading!
Ready to buy? Shop Amazon.com for the best deals on double din head units.