Researching Double Din Touch Screen Car Navigation Systems?
Estimated read time: 13 minutes 10 seconds.  Want to read later?
Don't feel like reading?  Check out my video post on youtube.
Wondering what the differences are between Alpine, Kenwood and Pioneer double din car navigation systems for 2014?  Let me break it down for you.  In our shop, we carry all three brands and several different models from each.  For this post, I will focus on the 6 that we carry, but I will also briefly mention the differences within each line up.
Starting in the entry level double din car navigation category, here is what we have to offer.  The following three models all feature a 6.1″ touch.  From Kenwood, we carry their eXcelon series DNX691HD.  From Alpine we carry the INE-W940 and from Pioneer we carry the AVIC-5000NEX.  For our higher end models, featuring a 7″ touch screen, we will go over the Kenwood eXcelon DNN991HD, Pioneer AVIC-7000NEX and Alpine INE-W957HD.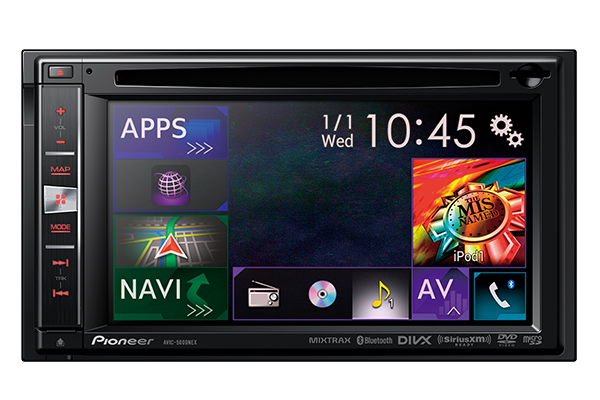 Let's start with the Pioneer AVIC-5000NEX which I feel offers a lot of features for your hard earned money.
Pros
The Pioneer AVIC-5000NEX is a pretty popular double din car navigation at our shop.  It's not the cheapest navigation we offer, but I definitely think it has a great value.  This double din car navigation unit has a very attractive graphic user interface (I think it's pretty).  It's also nicely customizable as far as button color and background color so you can nicely match it to your vehicle's interior illumination.  It also has great brightness and contrast adjustments (one setting for day and one setting for night).  It's also relatively easy to use.  The AVIC-5000NEX manages to pack a good amount of features in without being overwhelming to most users.
There is a clearly defined home button which helps you to navigate the various options and sources of the navigation system.  There is also a handy settings icon on the top right.  When accessed, it quickly breaks down the various settings available into sub menus on the left.  There are separate tabs for Audio, Appearance, Bluetooth, System etc depicted with simple easy to understand icons (example – the Appearance icon is denoted by the image of an artist's palate).
Sound quality wise – it comes equipped with a 13 band graphic EQ, built in crossover adjustments, subwoofer level control and 4 volt RCA preouts – which is great if you plan on using external amplifiers.  The higher the voltage, the more kick you will get out of the amp or the more sensitive the stereo will be to the amp.
It also comes with the standard features most consumers expect these days along with a few unexpected perks:
Rear USB connection
7.9 Millions Points of Interest
Reverse Camera input
SiriusXM ready (requires SXV200 tuner)
Steering Wheel Control ready (requires additional interface varies from year, make and model vehicle)
Rear Aux in (will require extension cable or optional flush mount kit)
Bluetooth for handsfree (featuring Siri Voice Control button which is accessed via the Bluetooth menu)
Bluetooth audio streaming
Text to speech navigation ("turn left onto Main street")
Pandora Control with iPhone (connected via USB cable and standard iPod to USB cable)
App Radio Mode (for iPhone only on the AVIC-5000NEX, for Android you would have to step up to either 6000, 7000 or 8000)
Dual Zone capability (Great feature if you have kids and plan on adding a rear seat entertainment system – you can load a DVD in the Pioneer and send the audio and video to a rear monitor that transmits audio via wireless headphones.  At the same time you can launch another source entirely for the front speakers in the car such as Bluetooth Audio, USB, SiriusXM)
Apple Car Play – This feature is available pending a free software update from Pioneer.  Once available, users will be able to connect their iPhone 5/5s and launch select apps on screen as well as control various apps and send/receive text messages.
iDatalink Maestro Control – Another feature that will be available, currently pending a software update from Pioneer.  With select vehicles, you have the option to integrate vehicle information, as well as OEM features such as SiriusXM, into the Pioneer system.  In some vehicles, you are able to view tire pressure monitor, reset check engine lights, etc.  iDatalink Maestro is not only an advanced steering wheel control interface, it also relays select data from your car to the radio.  Features vary greatly from year, make and model vehicle as well as stereo model.  See what is available for your car here.
Cons
No HD Radio
No Nav Traffic information
No HDMI input
Cannot customize home screen shortcuts
Lacks 3D Landmarks in Navigation
When you step up to the 7″ version, the AVIC-7000NEX, you can forget the cons mentioned above.
Stepping up to the Pioneer AVIC-7000NEX means you will add these additional features over the AVIC-5000NEX.
Some other cool features about Pioneer Double Din Navigation systems that are not really mentioned in their literature
Responsive – Compared to Kenwood and Alpine, Pioneer's operating system is very responsive.  Alpine is pretty close in overall speed and performance, but I do believe Pioneer has a slight advantage in terms of processing speed.
App Mode and Mirrorlink capable – Pioneer was really the first (you could say the pioneer) in the industry to really try to interface with iPhone and Android cell phones.  I have to say, as confusing as the process is in confirming device compatibility, proper cables and interfaces, correct software and settings on phone – once it's set up, it is pretty cool.  Just to be clear – Mirrorlink, App Mode, Car Play and simply mirroring your iPhone are four different things.
Pioneer has an app called the AppRadio app for both Apple and Android devices that allows the control and interfacing of select apps from your phone on the stereo touch screen (additional parts are required and vary from radio model and phone model).  This app works on Pioneer stereos that feature App Mode.  Due to legal reasons and safety concerns, the types of apps you can access are limited so it's not a true and direct mirroring of what's on your phone on the stereo (do you really need to read emails and drive at the same time?).
A quick visit to Pioneer's website will show you which apps are compatible with which phones.
Mirrorlink is a broad term given to phones that are built with Mirrorlink technology capabilities.  You can check Mirrorlink's product listing to see what phones have this technology built in.  Also know that just because a radio says it's Mirrorlink compatible, does not mean you can just plug your phone in and mirror everything on the screen.  I wish it was that simple, but in my experience it's never that easy.
If you want full mirroring and full control of your phone from the touch screen (and it's Android based) there are other developer apps out there that do appear to accomplish this, but they require you to root your phone among other things and they actually work off the App Radio platform and require App Radio parts.  You can read about the process on this great write up from CNET.
To connect your Mirrorlink compatible phone to any a Pioneer NEX model using Mirrorlink, you will also need the interface from Pioneer, the CD-MU200.  According to Pioneer, this allows you to access music, map services and phone from your stereo.
A glance at the Mirrorlink section of the owner's manual of the AVIC-NEX7000 clearly shows and describes 2-way control and the appearance of apps on the screen, home icon and back button.  However, it is very vague and littered with limitation and warnings such as "Multi-touch gestures may be disabled depending on the MirrorLink device model that is connected" and "Depending on the type of Mirrorlink Device, this key is not appears".  That is not a typo, that is exactly how it reads and that is stated several times in the manual referring to navigation keys when in the Mirrorlink mode.  Obviously something has been lost in translation here.  Additionally the final warning on limitations is "Compatibility with all MirrorLink devices is not guaranteed.  For details about MirrorLink device compatibility with this product, refer to the information on our website."
When we go to their website under the required part number, CD-MU200 we find even more limitation warnings such as "Proper app installed on the Samsung compatible Mirrorlink smartphone is required (not sold or distributed by Pioneer)."  Okay, so what app do we need if we have a Samsung Mirrorlink phone?  The Drivelink app?
I did have the chance to speak with a very helpful product support technician from Pioneer.  Even though Mirrorlink is a branded name and phones can be produced with Mirrorlink Certification, the phone manufacturer can back out at the last minute and opt not to install the hardware into their device OR if they do produce it, there's no guarantee the feature will always work.  What they've found is devices that were compatible have often become incompatible due to software updates by the phone manufacturer.  So although this product is Mirrorlink compatible, the chances of successfully connecting and maintaining a functioning Mirrorlink connection seem slim.
To take advantage of Pioneer's App Mode with an Android based phone, you will have to step up to the AVIC-6000NEX, AVIC-7000NEX or AVIC-8000NEX and purchase a CD-AH200 and possibly an additional adapter for your phone.  See Pioneer's compatibility chart here.  Most of the popular Samsung phones such as the Galaxy Note 2, Galaxy Note 3, Galaxy S3 and Galaxy S4 will require a Samsung tip adapter, the  ET-H10FAUWESTA Micro USB to HDMI or the  EPL-FU10BEBSTD 5 to 11 pin convertor.
iPhone users can also operate App Mode on any of the NEX head units with a few additional parts.  With the right adapters installed, you can also choose to simply mirror your iPhone by selecting the "hands on" icon on the bottom right of the screen when on the iPod source.  In this mirroring mode, there is no on screen control of the iPhone, however there is on screen control when using the App Mode.
If you have an iPhone 4/4s you can get away with one cable, the CD-iu201s.  This cable will work with any of the NEX model navigation systems.
If you choose the AVIC-5000NEX and have an iPhone 5, you will need both a CD-IV202AV and an Apple Lightning to VGA Adapter as well as a standard USB to Lightning cable.
If you choose the AVIC-6000NEX, AVIC-7000NEX or AVIC-8000NEX and have an iPhone 5, you will need a CD-IH202 and an Apple Lightning to Digital A/V Adapter as well as a standard USB to Lightning cable.
The end result in the last two options is not the prettiest looking pigtail, you would really have to have a good location in your dash or glove box for either of those options.
What if you prefer Garmin Navigation?
Kenwood uses Garmin for their mapping system in their double din navigation systems (6 million Points of Interest).  So on the navigation side of the DNX691HD, you may find yourself in very familiar territory.  Switch over to the audio side of this unit and you may get lost.
The Pros and the Cons of Kenwood eXcelon Double Din Navigation Systems
The Kenwood DNX691HD does feature a volume knob which customers seem to either love or hate.  It also features the Kenwood eXcelon Sound Excellence DSP processor, a 13 band EQ, digital time alignment, 5 volt RCA preouts and various types of audio control/adjustments.
This double din car navigation system sounds great and is a wonderful option if you're building a high fidelity audio system.  However, if you want to adjust the level of your subwoofer, you better install a bass knob otherwise you're going to have to access 4 different pages of menus before you actually reach the subwoofer level adjustment in the stereo.  Also, if you have more than 250 contacts in your phone you will be disappointed to hear that Kenwood cannot support more than 250 contacts.
These units are not perfect.  If you've had Kenwood radios before, you know what I'm talking about.  They pack a lot of features into their radios and it's easy to get lost in their menus sometimes from something as simple as trying to adjust the bass on your stereo.  Once you've had a Kenwood eXcelon unit though, you tend to look past the initial user difficulties because you appreciate the excellent sound quality.  If sound quality is important to you and you are the type of consumer that can hear and appreciate the subtle differences and nuances between digital to analog convertors among brands, you will appreciate the superior sound quality in this deck.  Some customers in my showroom can pick this difference out right away, others can not.  My recommendation?  If you can't hear the difference, don't pay for it – go with what works best for you.
This unit does add a few features over Pioneer's AVIC-5000NEX such as:
HD Radio
Advanced Equalization Capabilities, Excellence Sound Processor and 5 Volt RCA preouts
Volume Knob (may be a pro, may be a con, depends on your taste)
iDatalink Maestro Capable (no update required, just the interface and a compatible vehicle)
HDMI/MHL connection
Not only Pandora control, but also iHeart app control for both iPhone and Android
Set up memory – awesome feature if you plan on taking full advantage of all the various Equalization features.  Allows you to easily memorize and then recall all settings if power is disconnected and the unit is reset to default settings.
Looking for all that a little more?
Like Pioneer, Kenwood also offers a 7″ Version of this stereo – the DNX891HD.  Additional features over the DNX691HD include Dual rear USB ports and photo real junction view.  And if you're not totally confused by Kenwood's menu system, you may want to check out the DNN991HD – the ultimate in features for your money.
Totally Connected or Totally Confused?
This is part of Kenwood's connected series head units that allow you to actually tether off your cell phone (or other wireless hotspot) and access crazy things like an internet browser, weather reports, email, Facebook etc. – all with the parking brake engaged of course.  The DNN991HD also features a killer high definition glossy screen, something you just may have to see in person to really appreciate.
This thing is like a computer for your car and it sounds awesome like most Kenwood eXcelon products do.  The only drag?  You might have to study the 178 page user manual for a while until you get the hang of it (yes that's just one language).  Another really important draw back to note here is the overall processing speed leaves a lot to be desired.
This model also comes with a push to talk button designed to work with select voice control commands.  In my experience, this feature has never worked well on any Kenwood stereo, but it is a feature nonetheless.  I wouldn't buy this stereo based on that feature alone though, I think you would be disappointed.
Kenwood was also the first company to start working with the iDatalink Maestro interfaces and I've found for most vehicles, they generally have more features and compatibility when it comes to utilizing this option.  Check out a screen shot from a recent Jeep Wrangler installation we did.  There was even the option to retain Uconnect if desired (although the customer opted not to in this case), but this gives you an idea of the kind of integration the iDatalink Maestro interface offers (there are two versions of this interface, these features are only available on the RR version and some vehicles require additional cables – check iDatalink Maestro application guide to see what you need for your vehicle).
What About Alpine???
Alpine does have a few new larger models geared specifically towards truck owners (Toyota, GM, Ford).  However the platform of those over sized models (X008, X009) is based pretty much on the same user interface and features that exist in their INE-W940 and INE-W957HD.
WYSIWYG
Alpine is easy to use and all about clean lines.  What you see is what you get.  Many consumers out there will appreciate Alpine's simplistic design and ease of use.  You definitely won't get lost in any menus on an Alpine stereo or distracted by any bouncy or flashy lights and colors.  They're very straightforward and somewhat subdued.  The pages and options are easy to navigate and are relatively responsive compared to some of the more feature packed models mentioned above.
Alpine has created what I lovingly refer to as the non flashy double din navigation units.  These models are perfect for consumers that are seeking an upgrade without advertising it.  They want a clean and almost OEM fit and finish and it's evident that Alpine has taken great care designing their user interface.  The simple, yet clean look they've developed reminds me a bit of Apple's approach to design and function.  This comes as no surprise to me for two reasons.  Alpine was the first car audio manufacturer to adopt the iPod and officially work with Apple designing car stereo products that were iPod compatible.  Alpine also has previously worked along side OEM manufacturers such as Honda and Acura developing OEM navigation products.  I believe these two aspects have greatly influenced Alpine in their overall design and execution of navigation products.
Pros
Easy to use 3D Navigation Car Stereo
Clean and simple looking (4 different color illumination options)
SiriusXM Ready
9 Band EQ
SiriusXM Ready
6 Million Points of Interest
Cons
Low voltage RCA preouts (2 Volt)
Lacks HD Radio
Step it up in size and what do you get?
The INE-W957HD double din navigation system adds Junction view with sign post and comes with an advanced GPS positioning sensor (better accuracy).  It also features HD Radio and 4 Volt RCA preouts.  Pandora control is done via Bluetooth with either iPhone or Android whereas on the INE-W940, iPhone users must connect via USB to control Pandora.
Another really cool feature of this unit unique to Alpine?  This model has optical audio out.  So for anyone looking to do a full digital audio system, you could technically use this stereo as your source, feed it to either an Audison Bit One or Alpine PXAH800 in conjunction with an Audison amp and digital interface.  So for extreme audiophiles out there, this feature alone may sway your decision process.
In summary
To sum it up the same way I sum it up for my customers:
If simplistic design, ease of use and audio control are important to you, go with Alpine.
If sound quality is your bottom line, you prefer Garmin navigation and you're willing to learn various menus and a sometimes awkward stereo layout – go with Kenwood eXcelon.
If you want a really nice compromise between the two, Pioneer is where it's at.
I hope you have enjoyed this blog post.  I welcome comments, questions and suggestions.
Coming soon, a post about App Mode, Mirrorlink, Car Play and general phone mirroring.  Readers, what has been your experience with interfacing your cell phone to your touch screen car stereo?
Ready to buy?  Shop the best double din navigation deals on Amazon.