It's here – The Alpine iLX-007 CarPlay Stereo
Check it out!  Today I received a couple Alpine iLX-007's and I have to say I'm quite impressed – even with the packaging alone.
This package would look fantastic under the Christmas tree.  Even if you couldn't install it right away, the packaging would keep you entertained for a couple hours.
Look how small this thing is!  It reminds me of Parrot's Asteroid series, except the iLX-007 actually sounds good (unlike the Parrot Asteroid).
Not much for inputs on the iLX-007
The iLX-007 comes with:
One rear USB port (USB cable included)
One rear aux in (cable not included)
One reverse camera input
Steering wheel control input
Microphone port (microphone included)
3 RCA preouts (2V).
That's it.  No secondary USB port, no HDMI port, no Bluetooth audio streaming, no SiriusXM capability, no HD Radio.
There's a few things you should know about the iLX-007:
You still need a TR7 even though there's only a parking brake wire (no foot brake on this one)
It ONLY works with iPhone 5 and up, no iPods as you can see from the USB error above
No mounting sleeve included – you can see in the photo below I used a Pioneer ADT-VA133 mounting sleeve although it does support iso mount and most dash kits these days offer iso mounting
Here's the Pioneer ADT-VA133 mounting sleeve holding in the iLX-007 on my display board – minus the trim ring.
iLX-007 EQ features
Alpine says on their website the iLX-007 has a 9 band parametric EQ.  I have a feeling this is only accessed using their Tune it App because all I could find in the menu was bass, treble, balance, fader and subwoofer level – aside from the preset EQ options.
This supposed 9 band EQ feature is one I will be investigating further and I will update this post soon after.  I will also be posting a video review up this weekend with comparison to the Pioneer AppRadio 4.
Sound quality iLX-007 Review
Okay, here's the deal.  It sounds better than Pioneer's AppRadio 4.  Even with minimal audio control, everything set to flat, the Alpine has more detail and clarity.
Plain and simple, there is a very audible difference.  I was pretty surprised honestly considering how much Pioneer has ramped up their audio control tools lately.  The Pioneer AppRadio 4 just sounded muddy compared to the iLX-007.  Kudos to Alpine on the sound quality on this deck.
UPDATE – 10/10/14 – After an additional and much more thorough side by side comparison, I believe I may have had a setting off (like bass boost or something) on the Pioneer AppRadio 4.  We turn off our sound board every night so these units typically default to standard settings.  I have a habit of going through and making sure everything is set to flat, bass boost off, time alignment off, etc. but I think I definitely missed a setting the 1st night I got to take a listen to these two units.  In fact, there is barely an audible difference.  Extremely finite.  For myself and my husband, we found the Alpine had an ever so slight edge in detail, one that would be hard to pinpoint in a blind listening test.  They both sound pretty clean.
Alpine iLX-007 – the Siri button rocks
Having hard buttons on this touch screen is incredibly helpful.  The whole concept of CarPlay is to make your driving experience more enjoyable and safer.  Having a hard button you can feel, recognize and then press to activate Siri makes a lot of sense.  Siri had no problem with any of my requests.
"Play Daft Punk"
Siri responded by playing Daft Punk.
"Call Wooshie"
Siri responded by calling my Wooshie.
"Find me pizza"
No problem.  Siri responded with a list of several options in my area.
Not that I'll be indulging in pizza since I recently went wheat free and dairy free, but John's Best is fantastic and right around the corner from me.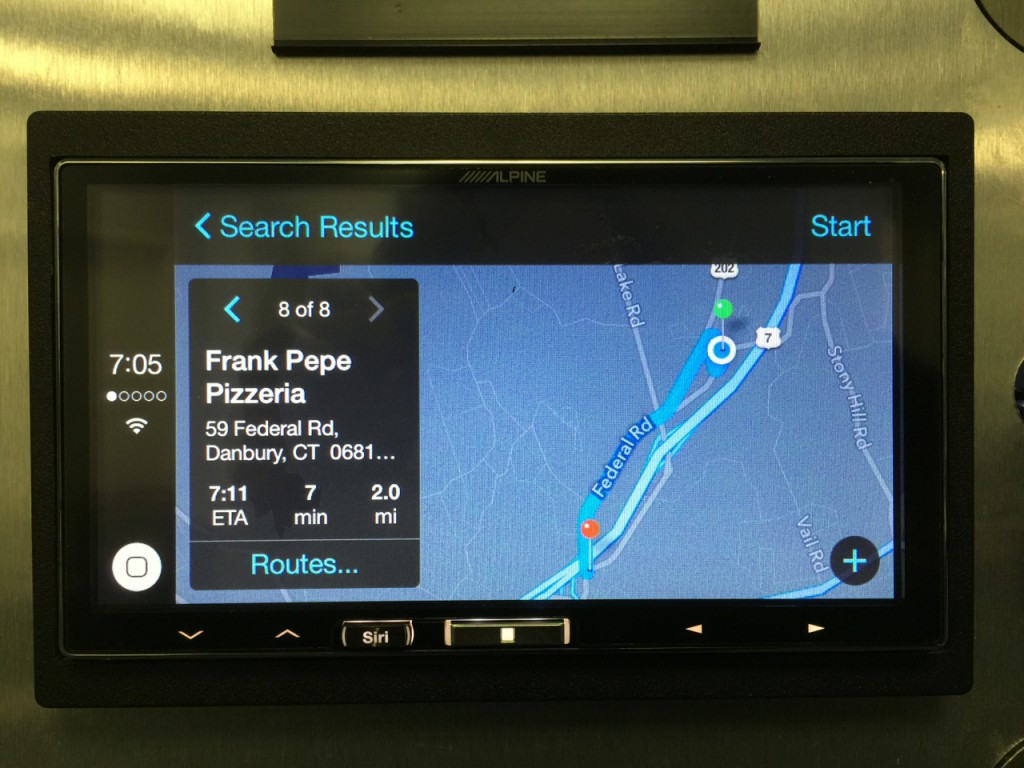 Also right near by is the famous Frank Pepe's Pizzeria which Apple Maps pulled right up for me.
"Text Wooshie"
Siri quickly responded, "Okay, what would you like to say to Wooshie".  She then confirmed she understood me before sending.
You can see Siri relayed my message "Testing" no problem.  Although I think the bigger question I have is why does my "Wooshie" have me labeled as "Anne" in his phone book.  Weird.  It's Annie in case you didn't catch it by now.
"Play Bad Suns"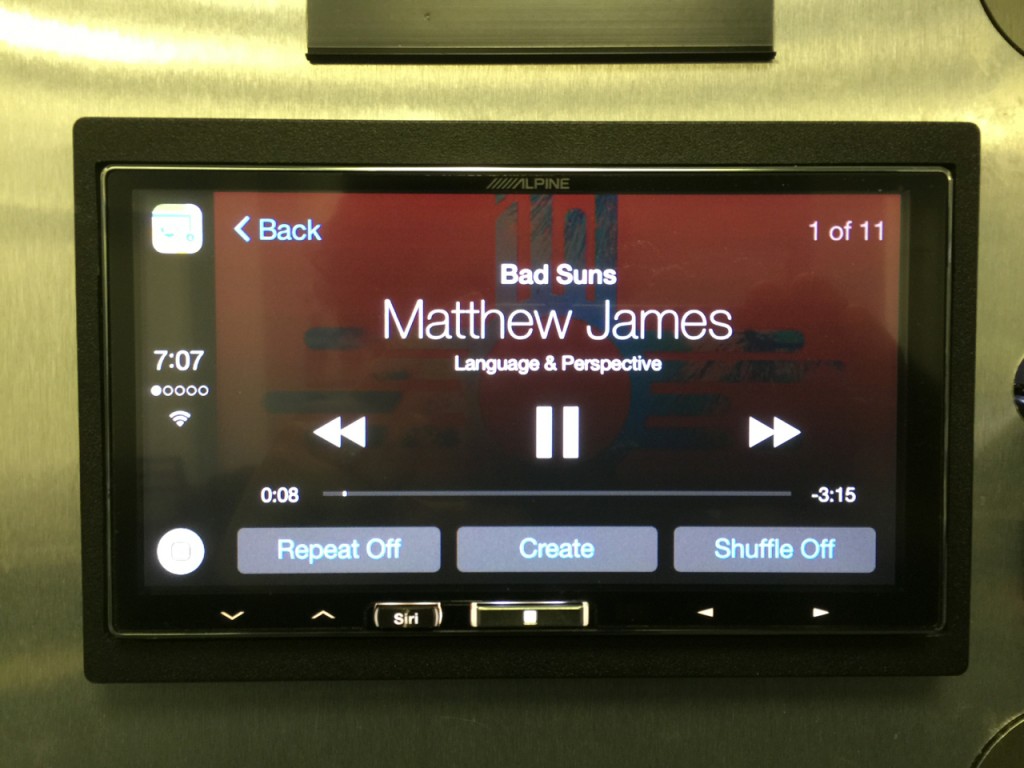 Sir works awesome with the Alpine iLX-007
From texting to directions to phone calls to playing music, she did whatever I asked and she even did it on the 1st try.  Now if only I could get my employees to do that.
No Pandora, sort of…
It's weird to me that Pandora is not integrated into CarPlay, but you can trick it into playing by simply launching the app from the phone first then select "Now Playing" on the iLX-007.  One quirk is the display doesn't fill up the whole area when you do this.  Details like this drive me nuts.
Hard buttons are a great feature in my opinion
The menu button is a nice hard button which makes it easy to identify while driving and quickly brings you back to your main sources (only 3, so not too hard to figure out).  It's also helpful in identifying the very handy Siri button.
A/V input on the Alpine iLX-007
I need to do a little more investigating into the AUX feature.  I see listed in the iLX-007 owner's manual some information regarding operating the mobile digital TV receiver.  Initially I couldn't figure out why a mechless CarPlay head unit would require a parking brake wire connection, but this little feature could explain why.  I will update this post as more information becomes available, but as of late tonight, I'm not sure what the DTV feature mentioned in the manual is all about.
CarPlay Keyboard Quirks
It appears this keyboard quirk is not limited to the AppRadio 4, but also effects the iLX-007.  Sometimes when you initially bring up the keyboard it comes up like this.
Other times it comes up full size.  I *think* it only comes up small like this if you're listening to Pandora, but I will need to do some more testing to verify the source of this keyboard quirk.  Here is the proper size on screen keyboard.  Not that you really need to use it, Siri works really well actually.
Alpine iLX-007 Review – Overall impressions
Overall I am quite impressed with the Alpine iLX-007.  It doesn't do a lot, but what it does do – it does quite well.  And let's face it, this is what most people are looking for:
An easy way to make and receive phone calls
Easy access to music from their phone
Access GPS from their phone
Be able to do all of this using the great voice recognition technology that is known as Siri
Option to add a back up camera
Yes there are some limitations, one of them being that you have to connect your phone, no Bluetooth wireless here.  Having been doing this for the past 7 years in my own vehicle, I don't think it's THAT big of a deal, even for short trips.  Just make sure you mount the USB port in a convenient location, like a center console as opposed to a glove box.
No HDMI input, but really, you shouldn't be watching YouTube and driving at the same time anyways.
No secondary USB port that could support a dedicated iPod – This I find quite disappointing.  A lot of my customers like to leave a 160 iPod in their car just for music.  With this stereo, you can't even connect an iPod (unless you want to go through a headphone jack, but that's not convenient at all).
No mounting sleeve.  I would say for 90% of the vehicles on the market, this won't be a big deal.  If ISO mount is not an option for your vehicle, pick yourself up a Pioneer ADTVA133 mounting sleeve.  Works just fine.
Although this model seems to lack fancy audio controls beyond Bass and Treble (unless the Tune It App presents more control), I was quite impressed with the overall sound quality of the iLX-007.  I would have to say, it's the better sounding CarPlay deck on the market at this point.  Sorry Pioneer, a 13 Band EQ doesn't really help if the sound is muddy to begin with.
UPDATE – 10/10/14 – Tune It App does provide 9 band EQ and digital time alignment, it must be controlled through the app.  Additionally, after a secondary and much more thorough side by side comparison, I believe I may have had a setting off (like bass boost or something) on the Pioneer AppRadio 4.  In fact, there is barely an audible difference.  Extremely finite.  For myself and my husband, we found the Alpine had an ever so slight edge in detail, one that would be hard to pinpoint in a blind listening test.  They both sound pretty clean.
I think the Siri button on the iLX-007 is the best feature of this head unit.  The fact that it is a hard button is what makes it so awesome.  If you're trying to focus on the road, you can feel your way to the Siri button and tell her what to do.  This is a HUGE advantage that Alpine has with their CarPlay model.
With the Alpine iLX-007, less is more
The lack of bells and whistles along with the precision focus of features on the iLX-007 make this model extremely straightforward and easy to use.  This is the whole point of Apple CarPlay and I think Alpine nailed it.
Subscribe to my YouTube channel and you won't miss my upcoming video review of the Alpine iLX-007 and Pioneer AppRadio 4.